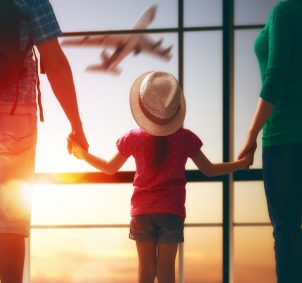 Credit: This story was first seen in the Guardian
There has been a sharp rise in the number of children missing school in England because of unauthorised family holidays, according to the latest government figures.
The Guardian reports that. while overall pupil absence rates have remained stable and are at a historic low, figures published by the Department for Education reveal that an additional 100,000 children missed school for an unauthorised family holiday in 2015/16 compared with the previous year.
The increase follows a legal ruling last May that overturned efforts to fine a father from the Isle of Wight for taking his daughter on holiday in term time. The supreme court is currently considering an appeal against the ruling and is expected to issue its judgement shortly.
According to data published on Thursday, March 23, the percentage of pupils missing at least one session of school – i.e. half a school day – due to an unauthorised holiday went up from 10.4% in 2014/15 to 11.9% in 2015/16. Just under 802,000 children missed at least one school session, up from just under 692,000 the year before.
The issue of term-time holidays became a battleground after the government introduced regulations in 2013 curtailing the ability of headteachers at state schools in England to grant up to two weeks term-time holiday for pupils with good attendance.
It led to a surge in fines for unauthorised absences imposed on parents by local authorities, and complaints from families seeking to avoid the higher cost of school holiday travel.
A DfE spokesperson said: "Today's figures show overall absence rates remain at historic lows, and thanks to the hard work of schools and local authorities the proportion of pupils who persistently miss school has fallen by more than a third since 2010/11.
"The rules are clear – children should not be taken out of school without good reason. Evidence shows that every extra day of school missed can affect a pupil's chances of achieving good GCSEs, which has a lasting effect on their life chances.
"That is why we have tightened the rules to put teachers firmly back in charge of their classrooms, and we are supporting schools and local authorities to use their powers to tackle unauthorised absence."
Overall absence rates in English schools have followed a general downward trend since 2006/07 when the overall absence rate was 6.5%; figures released on Thursday show the rate of overall absence in 2015/16 has remained the same as the previous year at 4.6%.
Persistent absence rates have also followed an overall downward trend since 2010/11 when it was 16.3%, with the rate standing at 10.5% in 2015/16, based on new methodology introduced in September 2015. A pupil is classed as persistently absent if they miss 10% or more of possible sessions.
The total number of days missed across all state-funded primary, secondary and special schools has risen slightly from 54.5m in 2014/15 to 54.8m in 2015/16, in line with higher pupil enrolment. Absence due to illness – the most common reason for absence – has remained largely stable, at 2.8% in 2014/15 compared to 2.6% in 2015/16.
Liberal Democrat education spokesperson John Pugh said: "Chronic absence is one of the most important education problems in our schools that no one is talking about.
"As a parent, I want to see every part of our education system working well for the children, and if children are not accessing the education they're entitled to then the government must take action."
Don't forget to follow us on Twitter, like us on Facebook, or connect with us on LinkedIn!