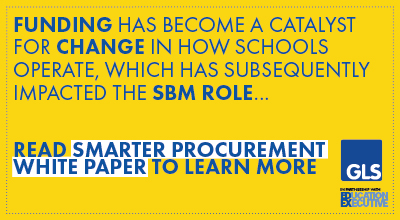 New research sheds light on procurement in schools in England and Wales, identifying some of the 'pinch points' that SBMs face
Conducted by Education Executive, in association with GLS Educational Supplies, this research examines the 'pinch points' that school business managers (SBMs) face, identifying how the procurement function can be streamlined to improve efficiency, reduce costs and give them back some precious time.
Smarter procurement; a practical guide to improving value and efficiency finds that, in the current financial climate and operating context, it's paramount that schools can achieve value-for-money. More importantly, it highlights the growing role of SBMs in this and other operational functions in schools, and the increasing workloads that accompany this.
The report found that most SBMs work beyond the hours they are contracted to do, with 84% of saying they work extra hours after school and 82% that they work over their lunch breaks.
SBMs need to reclaim time, and the report strongly suggests that smarter procurement is at the heart of achieving this. In fact, when asked which is the greater challenge to procurement, 51% of SBMs said time, while 44% identified budget as the greater difficulty.
Smarter procurement simplifies the purchasing process to ensure that better, more efficient decisions are made. It ensures that goods and services are fit-for-purpose, suppliers deliver as agreed and financial obligations are complied with. Ultimately, this results in financial savings that can be re-invested in schools, as well as time savings that can be reallocated elsewhere.
The findings of the report clearly point towards the need for a procurement process which is fit-for-purpose – a smarter procurement process – and makes some key recommendations in the following areas:
professional development;
purchasing audit;
procurement process;
value-for-money.
You can read the full report here.
Don't forget to follow us on Twitter, like us on Facebook, or connect with us on LinkedIn!