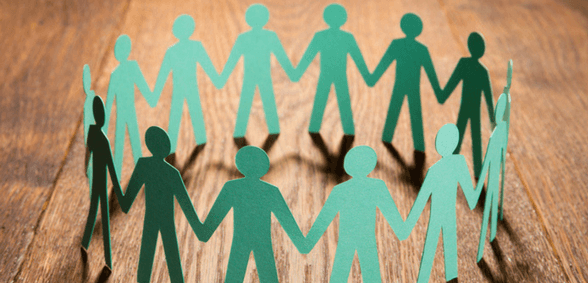 The Horncastle Umbrella Trust in Lincolnshire is a thriving partnership between Banovallum Comprehensive and Queen Elizabeth Grammar. While both schools retain their separate identities they collaborate on a range of key school business issues including education provisions and supplies. Kate Swain, SBM at Banovallum, and Sandra James, director of finance at Queen Elizabeth Grammar, discuss the trust, how it works and its effect on long-term spending plans
How did Banovallum School and Queen Elizabeth's Grammar decide to come together?
Horncastle is a small rural town and so has a great sense of community. Positioned a short distance apart, our schools have a long history of sharing activities and supporting each other – often there are siblings attending both schools. Establishing the umbrella trust was a natural extension of informal partnership working. Queen Elizabeth's Grammar School converted to become a selective academy in 2012 and Banovallum School converted to a non-selective academy in 2014 as part of our work to establish the trust.
What are your aims and objectives for the trust?
Established on the December 1, 2014, the trust is the vehicle by which both member schools join in partnership to enhance educational opportunities and improve outcomes for all of our young people. Whilst both academies retain complete autonomy in terms of school character and ethos, we are committed to collaborating in order to enrich educational provision within our community.
What were your main considerations when entering this partnership – for example, were their certain stipulations that needed to be in place to maintain your separate but linked identities?
The emphasis has always been on partnership working. Both schools are proud of their history and achievements and all involved were keen to ensure that individual identities were preserved to maintain a sense of belonging. The Umbrella Trust framework included a partnership plan which identified the areas upon which both schools wished to focus together. This gave us our initial objectives and helped to maintain focus as we started our journey. These included teaching and learning, naturally; however, they also encompassed our vision for a truly collaborative culture. They were:
Securing consistently good and outstanding teaching and learning, leading to high quality outcomes.
Maintaining a committed, professional growth mind-set workforce, including school governors, who have access to and engage in highly effective CPD and educational research.
Grasping every opportunity to improve and develop the learning environment, facilities and resources for the students and wider community.
You collaborate on a range of school projects. What do these include and how do you approach them?
During the past two years we've tackled a range of different areas including financial management, company and charitable law requirements, developing a procurement protocol, health and safety compliance, policy development, staff professional development, estate management planning and developing catering provision. This is a snapshot from a purely business perspective and, of course, runs parallel to the enormous focus upon enhancing teaching and learning!
Our approach is simple but effective; identification of need, review of existing provision, research into best practice and innovation, examination of associated costs – culminating in a tailored proposal which meets the shared needs of both schools.
The financial benefits are, of course, a massive incentive. How has the partnership helped in terms of procurement and enabling larger projects? What financial benefits have you seen?
Some colleagues may be surprised to learn that establishing an umbrella trust does not attract any grants or funding and so the benefits and savings are quite literally in your hands. This is both a little daunting and an exciting opportunity to show what you can achieve.
We realised immediately that efficiencies could be achieved in terms of both finance and time if we pooled our knowledge and utilised our purchasing power. We developed a procurement protocol which sets out how we operate and this has paved the way for collective bargaining in respect of contracts for supplies and services.
In respect of financial benefits, the highest value rewards realised relate to our sharing of best practice and experience in order to secure Condition Improvement Funding. We are delighted to have successfully won five bids during the period that our trust has been established. These have totalled £815,634 and included replacement boilers, refurbishment of toilets and changing rooms, whole block refurbishments, replacement windows and roofing. The impact is evident each day as students, staff and visitors enjoy the improved facilities, in addition to adding value to our assets.
Can you share the detail of a specific example with us?
There are so many that we've found it difficult to choose! One of our early successes included streamlining the procurement of catering provisions whilst expanding our offer to students. We developed a specification to outline our non-negotiable outcomes and desirable extras and invited suppliers to tell us why they were the right partner for us. The business model we developed included a lockdown of prices for our core items, regular reviews to benchmark costs and prove and prioritise best value and frequent supplier visits to offer taster sessions and promotions. The final 'icing on the cake' was an agreed cash-back percentage on our annual spend so this contract also became an income-generation stream.
Yours is the first partnership of its kind – a selective grammar and a non-selective school – have you met any obstacles in particular? You're breaking new ground!
One of our initial challenges was to share our vision and harness the enthusiasm for partnership working beyond the Umbrella Trust. Although still a work in progress, the extended partnerships now in place have benefited our students and allow us to contribute more to the wider community. This includes suppliers, local businesses, further education establishments, community groups and charities.
'Collaboration' signifies additional support – is this something that you have found?
Absolutely, without question. This goes back to the spirit of our partnership – trust, honesty, respect and support for each other. We have a strong working relationship and great respect for our colleagues. We both feel that every team member has something to contribute, bringing a range of experience and skills which we can share and harness.
Will the Horncastle Umbrella Trust continue to grow – adding other schools in the area?
Our inclusive approach has already seen us working informally with other schools – primary schools in particular. This has included sharing best practice and resources in addition to planning and hosting shared events. The change in government focus means that umbrella trusts are unlikely to grow in number; however, we firmly believe that the principal still stands as we look to the future; we are definitely stronger together.
What would be your advice for schools considering something similar? Anything you wish you'd known when starting out?
Undoubtedly the work undertaken within our trust will form the foundation of further success over time. We all recognise that 'change is the only constant' and we would definitely encourage others to grasp the opportunity to shape their future. We are delighted that there are so many people and organisations who want to support and work with us. It has been a very rewarding experience; we're both very glad that we have played a part in the success of our trust.
The trust represents the spirit of partnership working. All governors, employees and students are expected to extend trust, honesty, respect and support to each other. Our shared values form the cornerstone of our operation; they are:
Developing, through collaborative enterprise, improved outcomes for the students within our care, through identifying and implementing strategies to meet their needs and those of our wider community.
Raising standards in teaching and learning and leadership and management through shared expertise and best practice.
Supporting partnership academies and other schools in addressing areas in need of development.
Obtaining best value for public funds through the joint procurement of goods and services.
In order to maintain the values, we share:
A sense of commitment that is inclusive of the wider Horncastle community whilst recognising the established identities of each academy.
A sense of common purpose that ensures improvement in attainment, progress and life chances of young people.
Leadership, founded on trust that is collaborative, cohesive, open and honest.
A management infrastructure that has the capacity to deliver.
A system of review to ensure that work of our trust is monitored and evaluated for effectiveness.
Don't forget to follow us on Twitter, like us on Facebook, or connect with us on LinkedIn!