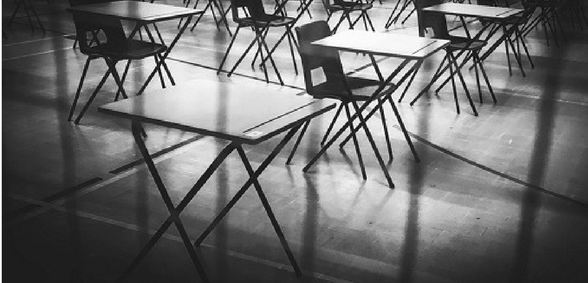 CREDIT: This story was first seen in BBC News
Concerns have been raised about child safety in unregistered schools, after a BBC investigation filmed a teacher appearing to strike a pupil's head, BBC News reports.
The BBC filmed a suspected unregistered ultra-orthodox Jewish school in Essex, and photos from two other such schools showed dirty and unhygienic conditions.
Ofsted said it has identified more than 350 suspected unregistered schools, but lacked sufficient powers to close them.
The Department for Education said 38 had ceased to operate since 2016.
Schools in England should be registered with the government if they teach five or more children for 18 hours a week or more.
Since 2014, more than 50 safeguarding alerts – concerns of abuse or neglect – were raised at schools not registered with the government, the BBC found.
The BBC investigation also filmed one suspected unregistered ultra-orthodox Jewish school in Westcliff-on-Sea.
The footage of a teacher appearing to strike a boy and manhandle a distressed child showed "huge safeguarding issues", Anne Longfield, the Children's Commissioner for England said.
"When the adult turns round, the child steps back and the adult clearly strikes the child", she said, observing the footage.
The synagogue, on whose grounds the school is based, said it was not aware of any incidents, but asked for more information.
It also denied there was an unregistered school operating on the site. It said "home schooling" was provided within the 18 hours limit.
But when it was observed by the BBC, it was operating for longer hours.
Photographs from inside two other suspected unregistered schools show shocking conditions, including poor food hygiene, dangerous wiring and dirty rooms in a state of disrepair.

There are concerns over extremist material at some sites.
The BBC obtained a copy of a book from an unregistered Islamic school in Birmingham.
In one section it openly advocates the murder of homosexuals.
"This punishment is to be carried out on both the one who does this and the one to whom it is done, if it is done freely and by choice", the section read.
Most of the safeguarding alerts the BBC uncovered related to physical abuse allegations. Some were also sexual.
Not all unregistered schools are faith-based. Of those where a religious ethos is known, half are Islamic.
Ofsted set up a specialist taskforce in 2016 to look at the problem and has issued warning notices to 50 suspected unregistered schools.
But it has failed to prosecute a single proprietor for running one.
Chief Inspector Amanda Spielman said many cases "could and should have been taken forward" by the Department for Education but none have been approved.
She said the law was not "strong enough" and Ofsted wanted more investigatory powers.
"We can't even pick up evidence that we find there," she said.
"If we find some unsuitable teaching material we can't even take that away, we have to let the proprietors of the school walk out of the door with it."
Dame Louise Casey, who warned about the problem in her 2016 review into integration and opportunity in our most isolated and deprived communities, said the Department for Education "really need to wake up" and "take action".
"We have pockets where kids are growing up in environments that are incredibly isolated, secluded, they're managed within themselves.
"Essentially there is one dominating religion and within that is an ideology that is frankly anti-British, anti our way of life."
In a statement the Department for Education said: "The secretary of state has to consent to a prosecution, but this happens at the end of the process, after the director of public prosecution has made a decision to charge.
"So far no case has reached that stage," it said.
"No child should be placed at risk and where a school is operating illegally action must be taken."
Don't forget to follow us on Twitter, like us on Facebook, or connect with us on LinkedIn!