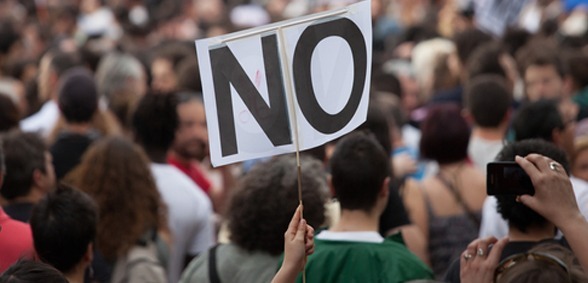 The Accord Coalition is urging the government to be vigilant regarding anti-RSE campaigners
A report by the BBC has revealed that a campaign group opposed to sex education has been found distributing leaflets in East London containing erroneous claims about relationships and sex education (RSE).
The group, called the 'School Gate Campaign', has distributed leaflets claiming that, due to requirements for RSE, schools are having to 'promote transgenderism and homosexual lifestyles', as well as encourage infant pupils to masturbate and other pupils to have sexual experiences by aged 12.
Another of their leaflets reportedly stated that parents 'will be questioned on the day of judgement' if they do not challenge the lessons.
The group's website claims it is connected to Anglican Mainstream, a fringe group of socially conservative Anglicans that is opposed to the acceptance of LGBT people.
RSE is to become mandatory in English secondary schools next year. Although Accord has welcomed this move, it has repeatedly criticised the government's statutory RSE guidance for failing to require schools to actively promote the acceptance of LGBT people, for facilitating primary schools wishing to omit any reference to LGBT people, and for enabling faith schools to ignore other religious opinions.
Chair of the Accord Coalition for Inclusive Education, the Reverend Stephen Terry, said: "Far from being a threat, high quality sex education is an important way in which schools can promote and safeguard pupils' health and wellbeing.
"A true threat to the future of our nation's children is that a partisan lobby group has sought to delay or dispense altogether with the communication of information about human reproduction or sexual diversity in our schools. Religious arguments have been wilfully misapplied in support of these misguided and prejudiced approaches."
"These poisonous claims are the latest stark reminder of dishonest and manipulative assertions that some are willing to make in order to stoke fear and division to achieve political ends.
"To expose this for what it is, understanding about RSE has to be improved, safeguarding families from being manipulated by opponents of sex and LGBT inclusive education.
"Such dangerous nonsense also highlights the ongoing urgent need for central government to offer greater moral and regulatory support for schools in promoting the acceptance of LGBT people."
Last month the Accord Coalition and the British Muslims for Secular Democracy co-supported an open letter from 78 civil society leaders in support of the government providing stronger and clearer advice about LGBT inclusion in schools.
The letter followed public protests in Birmingham regarding schools teaching about LGBT people and, in the view of the signatories, the government's 'half-hearted support for schools that are being attacked'.
Don't forget to follow us on Twitter, like us on Facebook, or connect with us on LinkedIn!