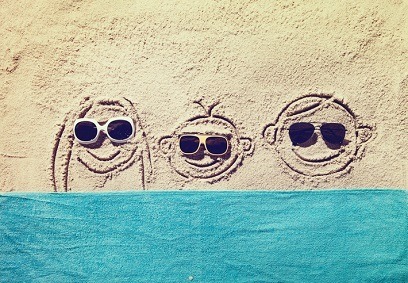 CREDIT: This story was first seen in the Derby Telegraph
New advice about taking children on holiday during term-time holidays has been sent to Derbyshire school headteachers by the county council, the Derby Telegraph reports.
The council has said that from September 1, if requested by schools, it will consider issuing a penalty notice for any period of holiday absence which has not been authorised by the head teacher "regardless of a child's wider school attendance".
Thousands of £60 penalty notices have been handed out for unauthorised school absence by the authority over the past five years but a challenge in the Supreme 
Court
 by a parent from the Isle of Wight threatened to change the rules on the situation.
Challenging 
parent
 Jon Platt had battled for two years against the fine he had received for taking his daughter out of school for a term-time holiday and argued that his daughter had still attended "regularly" as she had had very high attendance the rest of the time.
But the challenge failed in April when the Supreme Court ruled that attending school "regularly" means "in accordance with the rules prescribed by the school".
Derbyshire County Council has now told its schools they need to check their rules regarding attendance in relation to unauthorised absence and term-time holidays.
Councillor Alex Dale, council cabinet member for young people, said: "We understand the high level of interest and debate that this issue has generated, but we now have a clear Supreme Court ruling for all councils to abide by, stating that a pupil's attendance at school must be in accordance with the rules of the school.
"The council has therefore contacted all head teachers asking them to review their own attendance policies and practice to ensure the rules are clear and available for parents and carers.
"The responsibility is with head teachers to decide if a pupil's absence can be authorised or not.
"If an absence is unauthorised, the head teacher can ask the council to issue a penalty notice. If this request is made then a notice will be sent to the parent or carer."
Currently, the £60 fine, per parent per child, jumps to £120 if people fail to pay within 21 days of the fine being issued. If parents do not pay within 28 days, they can be taken to court and if found guilty, could end up with a criminal record and face a fine of up to £2,500, court costs or even a jail 
sentence
 of up to three months.
More than 4,500 penalty notices have been issued to Derby 
parents
 for taking children on holiday in term-time without permission in the past four years – netting the city council at least £275,000 in fines. And the year before July saw the authority issue 1,479 fines – it's highest annual figure yet.
Although
Derby City Council has not issued any fresh advice, councillor Sara Bolton, cabinet member for 
children
 and young people and safeguarding, said in April after the Supreme Court judgement: "We believe our children's right to education is paramount and the council works very hard to ensure that all children attend school regularly.
"The judgment confirms that if, despite support, parents or carers do not send their children to school it is appropriate that steps are taken to address that."
The only current exceptions where a child can miss school lawfully are when the child is too ill to attend school, or if the parent has had advance consent from the school rendering their absence as "authorised".
Don't forget to follow us on 
Twitter, like us on
Facebook, or connect with us on
LinkedIn!