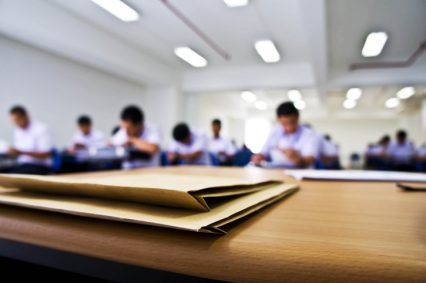 Opinions are divided on whether a post-primary integrated school in County Down should be allowed to admit some of its pupils using only AQE test results
An integrated school in County Down plans to use academic selection tests to admit some of its pupils, according to the BBC.
The all-abilities school has seen a large increase in enrolment in recent years, leading it to rethink its selection process.
Currently, Strangford Integrated College admits 35% of its Year 8 pupils to a 'grammar stream' using evidence of academic ability.
Now, the school plans to admit 35% based solely on AQE or Post-Primary Transfer Consortium (PPTC) tests. It wants to select 39 of its 110 year 8 pupils using the results for these alone.
The school believes this will give pupils in north Down and Ards the chance to receive a grammar education in an integrated school.
It also claims that there is parental demand for the plan. Lagan College already selects 35% of its pupils using AQE and GL test results, as does Slemish College in Ballymena, which is another integrated school.
Regardless, there have been objections to the plan – including from five other post-primary schools in the area and the controlled schools support council (CSSC).
The final decision on whether to allow Strangford College to proceed will be made by Derek Baker, the DE's permanent secretary.
Don't forget to follow us on Twitter, like us on Facebook, or connect with us on LinkedIn!