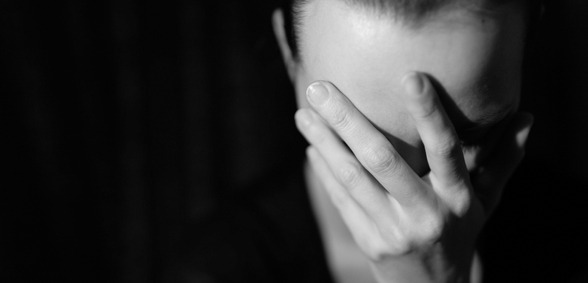 Rising mental health issues are placing increasing pressure on schools as referral delays and 'red tape' obstruct school leaders from fulfilling their safeguarding duties
Incidents of self-harm among children and young people have risen in almost half (45%) of schools in England, which equates to more than 10,000 schools, according to research from The Key.
The Key's annual State of Education survey report reveals that three in five (60%) of the headteachers and other school leaders surveyed have also seen an increase in depression among students over the past two years.
While pupil mental health was the most prevalent health and safeguarding concern for school leaders in both 2015 and 2016 when asked about a range of issues, worry over domestic violence, drugs and sexting also increased over this period.
A headteacher in a secondary school in the west Midlands said: "We're seeing students presenting a wide range of issues and we are having to increase our pastoral support. Early help outside of school is at best inadequate."
A primary school special educational needs co-ordinator (SENCO) said: "There has been an increase in self-harm and suicide attempts in our school and there is not enough mental health support for these children. The sexualised behaviour team are also involved in three children's cases at school due to serious behaviours…"
Adding to the pressure felt by schools, almost two-thirds (63%) of school leaders told The Key last year that children's services or social services being slow or failing to respond to referrals was a barrier to fulfilling their safeguarding duties. More than a third (37%) also reported that excessive paperwork and bureaucracy were obstacles to completing their duties.
One designated safeguarding lead (DSL) at a secondary school said: "The rise in mental health problems is huge, and safeguarding issues are also becoming really broad – there are so many things to cover now. The biggest challenge as a DSL is trying to keep up to date and working out what staff need to know."
Speaking about the findings, Fergal Roche, CEO of The Key said: "With worry over safeguarding issues growing and many schools feeling the pressure, it is critical that school leaders have the dedicated time they need to focus on supporting their pupils."
On the issue of self-harm, The Key's report demonstrates that while more than a third (38%) of school leaders in London saw incidents increase among pupils over the past two years, more than half (54%) of leaders in the north west said the same.
Self-harm also seems to be more prevalent in coastal areas with nearly six in 10 (57%) school leaders witnessing an increase in incidents since 2015 compared to just over four in 10 (43%) in inland areas.
In response to calls for more support for pupil mental health, the government has recently pledged £200,000 towards mental health "first aid" training for secondary school teachers to help them identify and deal with issues like anxiety, self-harm and depression. The money is expected to fund training for 1,000 teachers in the first year of the scheme.
Despite the government's commitment to extend this training to all primary schools by the end of parliament, the plans have received criticism for not going far enough. It may also be coming too late for many children, with over half of primary school leaders (55%) telling The Key that they have already seen a rise in depression among pupils over the last two years.
However, schools are doing all they can to support their pupils' wellbeing. Interventions include staff working closely with parents in two-thirds (66%) of schools, and counselling provision in nearly six in 10 (58%) schools. Over half (57%) already run staff their own training to help staff identify early indicators of mental health issues.
Indicating support for a more whole-school approach, a 14-year-old pupil said: "In my year group, I think there could be as many as one person in every class that might be self-harming but we wouldn't necessarily try to talk to them or raise this with a teacher. As students, we know how to relate to each other so more peer-to-peer support could really help pupils who are struggling."
In light of the these findings, The Key has worked with a team of safeguarding specialists to provide INSET training materials for all schools to download now, ready to deliver in staff training sessions this September.
Fergal Roche, The Key's CEO continued: "Ultimately, all children and young people should be given the best chances in life, and we hope these up-to-date INSET training materials will give all school staff peace of mind and free up time to give the right kind of support to those pupils who need it."
Selfharm UK
Ruth Ayers, a mental health project manager at Youthscape, the charity behind Selfharm UK, said:
"We are now in a climate where we are expecting schools to be the epicentre of the universe and there is an expectation on teachers to not only educate our children through exams but to also counsel them and support them when they are suicidal and depressed…
"Since the recent cuts in early intervention and preventative services there has been a huge pressure placed on schools to spot, diagnose and support young people with ongoing issues such as anxiety depression and self-harm. I think this research is a welcome piece of information to begin to help us to support young people as best we can. I think more needs to be done to help schools manage the myriad of emotions we are seeing in young people and as a charity we aim to provide information help and guidance to anyone who is struggling with self-harm."
YoungMinds
Sarah Brennan, Chief Executive of YoungMinds, said:
"Children and young people are facing a huge amount of pressure during their school years, and these worrying figures about increases in self-harm chime with what we hear from young people and parents – that young people with mental health problems at school need more support.
"But with schools and students under such pressure to achieve academically, it can be extremely difficult for teachers and school staff to be able to help students experiencing these problems. That's why we're calling on the Government to rebalance the education system, to make student wellbeing as much of a priority as academic achievement."

Don't forget to follow us on Twitter, like us on Facebook, or connect with us on LinkedIn!