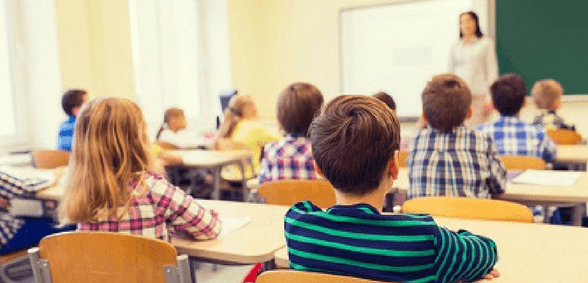 The East Anglian Daily Times has reported that a Lowestoft school has implemented a novel way to keep its pupils active and engaged
A school in Lowestoft, Suffolk, has made an innovative attempt to keep its pupils healthy.
Red Oak Primary has installed desk pedals under the tables of a year three class, enabling seven and eight year-olds to increase their physical activity during lessons as part of a trial scheme.
The pedalling has been proven to promote improved behaviour and concentration, as well as making the students more active, helping the battle against childhood obesity.
In fact, the pedals have been so successful that the school is now rolling the initiative out to a further 330 children from year one to six.
The original group of desk pedal exercisers were installed last month and they feature a digital display that indicates exercise time duration, calorie consumption and revolutions per minute.
The idea came from a meeting between the head teacher, Heather Madsen, and PE coordinator and year three teacher, Jonny Lee, as Madsen had previously seen the desk pedals prove successful in Scandinavian schools.
Lee said: "I had heard of schools in America using the pedal bikes during sedentary lessons, which led to improved levels of concentration after using the equipment and increasing activity throughout the day."
He added of the year three desk pedal trial: "We call it our active classroom. The desk pedals have seen the children cycle during their English, maths, ICT and French lessons to make them fitter and increase their daily physical activity. As far as I know, we are the only school in the north Suffolk and Norfolk area that does this. Its had a great impact on the class, with the children wandering around no more.
"The behaviour is better and engagement in lessons has been great – the class has been really enthusiastic and they like using the bikes."
Madsen commented on the upcoming roll-out: "It has been really successful and the other children are all really looking forward to it.
"The desk pedals have now become a habit, as the pupils are fiddling less with things on the table. No one is forced to cycle – they are doing it by themselves – and the desk pedals are brilliant for those who want to burn off more energy."
The school is also part of a Suffolk-wide pilot scheme involving the Active Movement Project. Madsen said: "We are trying to make as many opportunities as possible for the children to be more active in a classroom setting, including standing up to answer questions."
Don't forget to follow us on Twitter, like us on Facebook, or connect with us on LinkedIn!