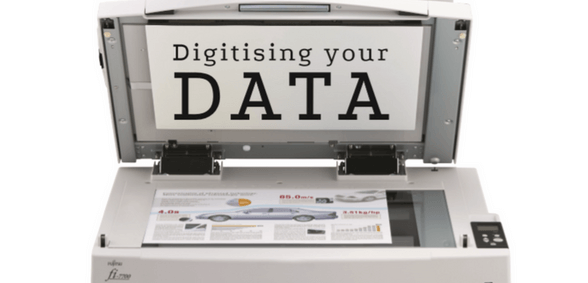 Schools are already seeing the benefits of digitising their data – in terms of both administrative efficiencies and teaching and learning.
Andrew Cowling, business development and channel marketing specialist at Fujitsu, explores the digitisation of schools' data and how it offers a simple solution to GDPR compliance.
Digitisation is changing the way that we live, learn and work. In the classroom it's supporting more personalised, enriched learning experiences through technology-driven teaching methods, while in the office digital working practices – including the scanning and digitisation of material – have streamlined administrative processes and are facilitating improved collaboration between staff, students, parents and carers. Now, with the implementation of the general data protection regulation (GDPR), digitisation offers a simple solution to compliant document management within the school setting.
A new way of working
The benefits of digital working practices are tied to realising efficiencies and optimising existing resources while driving improvement. There has been a push in schools and academies to reduce the use of paper and the associated costs; however, for certain purposes – test papers, meeting notes, forms submitted by parents or staff, invoices, etc. – it remains indispensable. The use of scanners means that paper-based documents can be safely recorded and stored digitally – saving on time and expense and making storage and document sharing easy.
At Fujitsu we offer a wide range of scanners – including sheet-fed, flatbed and overhead models; each is suited to different applications, but all perform an essential function: converting printed or handwritten documents into a digital format that can be shared, stored and distributed with ease. In addition, associated technology – such as optical character recognition – enables you to convert scanned images into text files, meaning that content can be edited and saved as Microsoft Office documents, for example, or inputted into school management/content management systems where it can be retrieved using simple searches.
Scan more; print less
Research published by Naace, in conjunction with Fujitsu – Scan More; Print Less – How schools increase learning while reducing teacher workload by going digital – found that, once students' work is digitised and made available online, the ways it can be used are radically extended. Feedback from peers, teachers and family is much wider and, using scanners, teachers can easily capture and digitally record a student's work – mapping out their progress throughout the term and sharing that information – on demand – with students and their parents.
The ability to capture paper-based information digitally and to store it securely on your school network, or in the cloud, helps to speed up the capture of correspondence – such as permission slips, catering requests and HR material – eliminates delays, errors and costs associated with manual, paper-based workflows and filing. In some schools it has revolutionised data management in terms of organisation, storage and security capabilities; using cloud-based servers, document retrieval and sharing between colleagues across the school or multi-academy trust creates efficiencies in terms of time, cost and space. One school is using a Fujitsu ScanSnap iX500 scanner to digitise and distribute the large number of financial documents handled by the bursaries office and to streamline everyday administrative processes, including the management of absence notes.
Pre-planned absence notes handed in by parents used to be photocopied by the department, stored in filing cabinets and handed out to teachers spread across the school grounds – a slow, time-consuming and unreliable process. Now, absence notes are digitised on the iX500 and, using the scan-to-email function, circulated instantly to the teachers concerned. This system also improves the learning experience as, when a pupil is absent, missed classwork can now be scanned and emailed to them so that they can catch up remotely.

There are some key questions to ask yourself to ensure GDPR compliance:
Right to access: can you find all the data you hold on an individual?
Retention periods: do you know how long you can lawfully hold data for?
Data erasure: are you confident that the right of an individual to 'be forgotten' can be met, and that every single trace can be removed?
Privacy by design: are you building-in security steps from the outset?
Security: how many copies of your documents exist?
Consent: do you have consent to hold the data, and how will you use it?
Audit trails: GDPR is not just about being compliant – it's about proving it in a court of law; can you confidently prove your processes are lawful?
Your GDPR strategy
Every day, an incredible volume of paper documentation is processed in schools across the UK and much of this includes personal or sensitive data; while your printing and scanning habits may not be the first things that come to mind when considering GDPR, these activities constitute 'processing'. Under the GDPR, all businesses, including schools, must have established, GDPR-compliant policies which enable the effective processing of personal data – personal information held needs to be securely managed and stored and easy to access and to edit – failure to comply can lead to fines of up to €20m or four per cent of annual turnover.
Investment in digital transformation delivers savings and efficiencies across the whole school and helps to prepare for future regulatory compliance. At Fujitsu we have investigated how scanning and document capture can support GDPR-compliance; working with our partners we have developed GDPR-related strategies and clearly-defined processes relating to how to detect and react to data security flaws.
A plan for compliance
For schools, when it comes to compliance, we advise that you assess the relevant data you hold and where it resides – your start point should be the digitisation of paper-based documents by scanning them and merging them with other digital material. Paper-based documents are more prone to human errors – scanning, digitising and operating online means that you have control of data and, once scanned, it can be filed on a network, in the cloud or on a local PC.
Our capture software is designed to leverage and optimise data; we've partnered with EAST Software UK – whose sister company, OtrisSoftware AG, has worked for 12 years on privacy management solutions. The software we use makes the identification and management of personal data easier – streamlining data capture and entry points – which makes questions relating to GDPR compliance easier to answer.