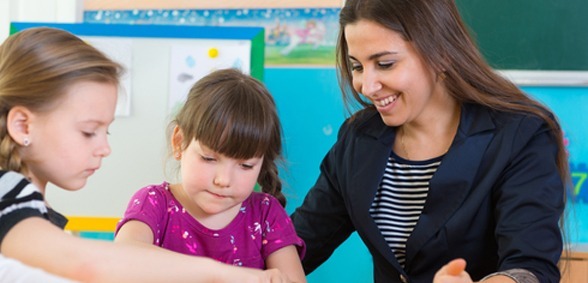 School and nursery leaders are being urged by the Education Endowment Foundation to ensure young children receive eyes tests, so that they begin t their school careers with the best foundations
Early years settings and nurseries are being encouraged by the EEF to ensure three and four year-old children get eye tests, as part of wider guidance for improving communication – including language and literacy skills – before school starts in September.
Preparing for Literacy reviews the best available research to offer early years professionals practical do's and don'ts to make sure all children start school with the foundations they need in effectively learning to read, write and communicate well.
The report shows that around 13% of children in the UK could have undiagnosed eye conditions – such as short-sightedness, or astigmatism – that hold back the development of their literacy skills. It also shows that while these issues can affect all children, those from disadvantaged backgrounds are more likely to go without a diagnosis.
The report is urging early years professionals to make sure that all children with possible eyesight problems are identified and treated. It notes that not being able to see well is an unnecessary barrier to making sure that all young children can access the best possible learning experiences.
The seven recommendations in this guidance report are each designed to support nurseries and early years settings to provide every child – but particularly those from disadvantaged homes – with a well-rounded grounding in early literacy. Previous analysis by the EEF found there was already a 4.3 month gap between poorer pupils and their classmates before school starts.
A second recommendation focuses on the importance of the best possible interactions between adults and children to develop their communication and language skills. Another recommendation suggests using a range of different activities – like singing, storytelling and nursery rhymes – to develop children's early reading and ability to hear and manipulate sounds.
The other four recommendations are as follows:
To give children a wide range of opportunities to communicate through writing
Develop children's abilities to manage their own behaviour and some aspects of their learning
Support parents to make sure they know how to help their children learn at home
Give children who are falling behind targeted support to ensure they catch-up
Sir Kevan Collins, chief executive of the Education Endowment Foundation, said:
"Good literacy skills are fundamental – not just for academic success at school, but for fulfilling careers and rewarding lives. Yet more than one in ten children are estimated to have an undiagnosed sight condition that could affect their ability to read and write well.
"Making sure all young children with possible eyesight problems are identified, and those that are given glasses or other treatments use them is a cheap way of removing this unnecessary barrier to learning. It should be a no-brainer.
"Our guidance report also includes a number of other recommendations to early years teachers to give young children the best possible chance of developing good language and literacy skills."
Don't forget to follow us on Twitter, like us on Facebook, or connect with us on LinkedIn!