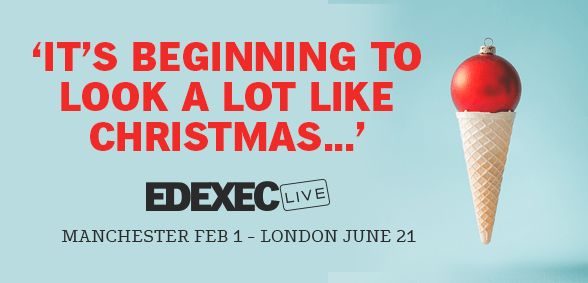 As we edge closer to the new year, our thoughts are on new resolutions! If you're anything like the EdExec team, you'll have a list as long as your arm! The first step towards achieving any goal is…taking that first step! When it comes to your professional resolutions, perhaps EdExec LIVE – taking place in Manchester, February 1, and in London, June 21, 2018 – can be that first step
What are your school business management resolutions for 2018 – perhaps we can help you tick some boxes…
√     Overcome financial pressures and budgetary uncertainty
Paul Leigh, chief financial officer at Focus Trust, will cast a positive spotlight on school finances – looking at things differently and reconsidering priorities and choices as well as exploring alternative resources at your disposal, such as local businesses. This session is about providing alternatives.
√     Be recognised for the strategic role I play in my school or academy
Laura Williams, education business and operations consultant at LJ Business Consultancy Ltd., offers guidance for SBMs who want to play a pivotal role in the strategic management and development of their schools and are looking for ways to gain recognition as a business partner.
√     Network and collaborate with more school business leaders
Louise Hatswell, finance director, business manager and chair of SYSBL, will run a session for SBLs who wish to expand their horizons and their networks – opening up a space for the exchange of knowledge and collaboration. It's also tailored to those who already run a local group – or are members – and are interested in opportunities for collaboration.
√     Optimise pupil premium and maximise outcomes for students
Neil Clephan, school improvement director for the Red Kite Teaching School Alliance and Trust, will explore how SBMs and senior leadership staff can use this vital funding well, evidencing value for money. He will also demonstrate how published Pupil Premium Plans can, and do, make the greatest impact.
√     Build my school's brand proposition
Justin Smith, MD at Chameleon Training and Consultancy, delivers a session to support SBMs who want to hone their marketing skills and take them one step further – to boost their school's relationship, standing in the community and make useful relationships now and in the future.
√     Overcome the challenges of academy conversion
Vickie Keeling, trust director at United Endeavours Trust and CEO, Wendy Whelan, provide a 360-degree perspective on the work of trust directors/SBMs. Vickie will share her experience as a SBM and then trust director, while Wendy will discuss the impact she has witnessed as a consequence of core service support.
And there's more…
These are just a sample of the excellent learning opportunities on offer at EdExec LIVE Manchester. Also on the agenda are leadership, teacher recruitment, asset management, ICT matters, procurement and staff management!
Our panel discussion – chaired by Matthew Clements-Wheeler, COO/deputy head of operations at Bordesley Green Girls School – seeks to unpick the current educational landscape and explore future possibilities by rethinking school business management. With more autonomy, increased responsibility, higher demand, greater expectations, changing support mechanisms, decreasing funding, spiralling on-costs and centralisation as a result of the  growth of MATs, the effective school business management of the future may require us to rethink current approaches and develop models and frameworks more suited to evolving operational structures – we want to address this and understand what the educational landscape will look like in coming years.
Don't forget to follow us on Twitter, like us on Facebook, or connect with us on LinkedIn!