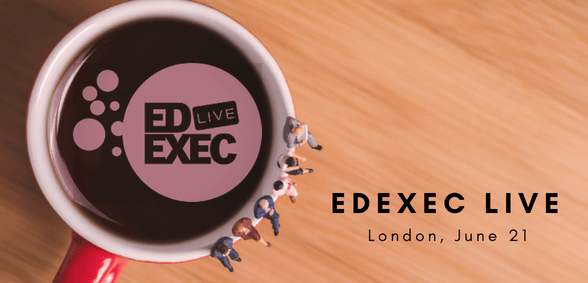 As one academic year edges towards it's close, it's time to look toward the academic year ahead and ensure that you are up-to-speed with the latest policy and innovations – it's all about fresh starts and getting off on the right foot!
That's exactly what EdExec LIVE – taking place in London on June 21 – is all about, ensuring that you are ahead of the professional curve. If you haven't already done so, book your ticket now!
In 2018 we'll bring the pages of Education Executive to life once more – the aspirational stories, innovative ideas and practical advice – but, at a live event, you take your learning further. If you're not familiar with EdExec LIVE, here's a brief introduction: it's an event dedicated to school business management – and, in particular, school business managers and leaders!
Sessions – delivered by practicing SBMs, independent consultants and commercial experts – address the challenges and changes impacting schools and their management, providing a fantastic opportunity for SBMs to engage with, and tease out, answers to specific issues. It's also a chance to network with peers, exchange information, share experiences and forge relationships. It's an all-round, really worthwhile, great day away from school!
Why attend? The proof is in the proverbial pudding…
So, what is our winning formula for a truly beneficial school business management event and, what can you expect from our upcoming events?
All-new programme
All-new seminars – expert-led – addressing the topics most pertinent to school business management today: finance, funding and income generation, marketing, premises, management and all the acronyms – CPD, HR, ICT, GDPR…
New academies stream! Take an in-depth look at management in academies, SATs and MATs and the development of the SBM role in the academy landscape.
It's all about you…Attend the seminars relevant to you and your school and ask the questions relevant to your unique situation.
Whether workshop, presentation or panel debate, attendees are encouraged to engage with both content and speakers – after all, EdExec LIVE is all about active.
Led by sector experts
Speakers include practicing school business managers, trust directors, independent consultants and commercial experts – all with proven experience in the education arena.
Speakers tend to stay for the whole day so, even after a seminar ends, you can continue the discussion.
You can also expect some popular, familiar faces – for example, Neil Clephan OBE, school improvement director for the Red Kite Teaching School Alliance and Trust, will share some of the knowledge and insights he has accrued over the course of his successful career in schools.
Expect a lot of new faces, too! Stuart Gardner, CEO of The Thinking Schools Academy Trust will deliver a session exploring curriculum-based financial management. More to be revealed…watch this space!
Networking opportunities
You will be able to network with a cohort of fellow school business managers – in their many different guises – hailing from primary and secondary, state sector and academies.
We have made sure that there's plenty of time – over coffee and a delicious hot lunch – to meet and speak with others, continuing the conversation and forging mutually beneficial relationships.
More exhibitors and supplier partners means more opportunities for you to see what's on the market and to discover and compare and what fellow SBMs are using to streamline business management in their organisations.
Plus, stay and continue the talk over post-conference drinks – always a winner!
This is an event driven by SBMs and we want you to join us! Visit http://edexec.co.uk/edexec-live/ for more information on the event and to book your place! We hope to see you in 2018!
Follow us on Twitter (and use #EdExecLIVE), like us on Facebook, or connect with us on LinkedIn to keep-up-to-date with everything EdExec LIVE! Or contact a member of the team to learn more