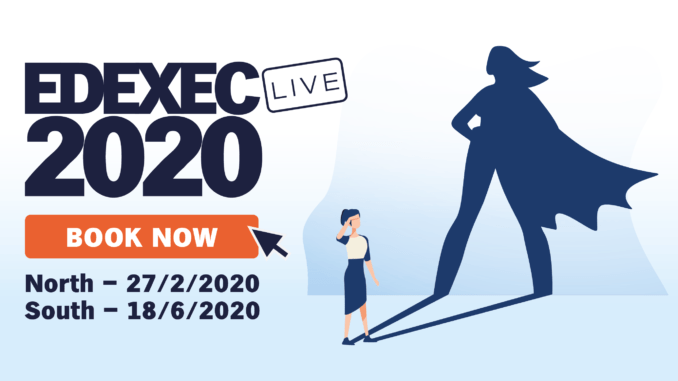 Here at Education Executive we think EdExec LIVE is an event worth your valuable time – but then we would, wouldn't we? Don't just take our word for it – take a look at the opinions of some of the very satisfied delegates who attended EEL 2019
EdExec LIVE is our annual SBM event, delivering a day of targeted learning and networking opportunities to school business managers and school leaders. We know how multifaceted your role is so the day includes a vast array of relevant help, advice and insight in the form of seminars and workshops. Simply pick the subjects that that will benefit you the most and enjoy your very own bespoke SBM conference.
"Excellent sessions at the @EdExec conference today, lots to think about and an even bigger list of areas to consider." @DOpsSBL
"Great workshops at @EdExec Live today; parental engagement, volunteers and fundraising. Really thought provoking. It's vital to get out and network. It really gives you a boost when you reflect." @SbmCoventry
We champion the worth of thought leadership and strategic thinking but we also know the importance of practical advice on day-to-day issues. With sessions on 'nitty gritty' subjects you deal with every day, we'll give you the tools to save your school money.
"Had a great day @EdExec Live. Some really thought provoking seminars, a bigger than ever to do list and some great chats." @accidentalSBM
With a host of eminent figures from education and related industries speaking at EdExec LIVE, delegates have the chance to meet with people who could offer a new perspective on their roles. The exhibition hall complements the sessions perfectly with the chance to speak with suppliers whose products and services could help drive your school forward.
"On train home after good day @EdExec. Great session from @ImSteveMitchell. Sessions from those doing the job have great resonance. Fearless leadership keynote was also very good value. Venue and catering good as always." @PhilBowden1927
"Another excellent event for #SBMs." @jus_chameleon
There's no better support than that of your peers; those who know the intricacies of your working day, as well as the big picture aims of every SBM. Bringing together SLT members from schools all over the country, EdExec LIVE is the perfect opportunity to meet new people, share best practice and form long-lasting professional relationships that could benefit you and your school in the years to come.
"Great @EdExec conf today – thanks to @vickibaloch and the team. Look forward to next year!" @valerieandrew
With its combination of innovative ideas, practical advice and lively debates, EdExec LIVE offers everything an SBM needs, wrapped up in one day. There's only one thing that never changes about this constantly evolving event: its value to our readers.
Find all the information you need and book your tickets here: https://edexec.co.uk/edexec-live-2020/
Don't forget to follow us on Twitter, like us on Facebook, or connect with us on LinkedIn!