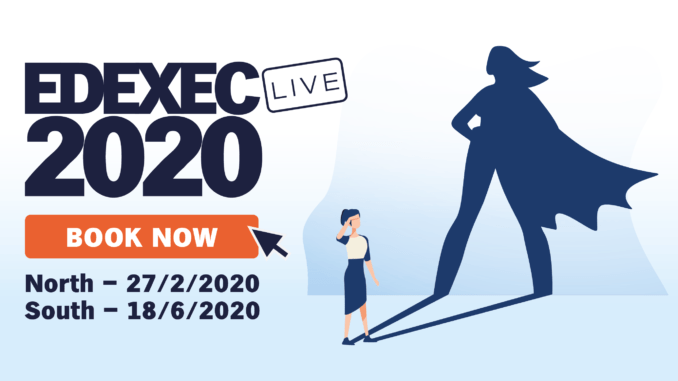 Our 2020 dates have been confirmed for 27 February (Manchester) and 18 June (London). Don't miss your chance to grab free or discounted tickets – e-mail

[email protected]

!
The path of the school business manager is subject to constant changes and challenges; it's the ability to adapt and be resourceful that makes SBMs so successful in what they do! EdExec Live an opportunity for you to enhance those skills, refine your SBM intuition and spend quality time with peers.
So, what can you expect from EdExec LIVE?
A focus on CPD With increased expectations weighing on those involved in business management the key to lightening this burden is professional development. Our event enables the opportunity to build on your knowledge and your skills and ensure you play a strategic role in determining the direction your school is taking.
Vital resources Schools are increasingly having to do more for less, so easing that burden is central to our agenda! EdExec LIVE delivers tangible ideas and examples of how you can make and save money, whilst improving your school environment and performance.
Information to-go With seminars running throughout the day, focusing on all the topics that affect you as a school business leader, there's something for everyone. Facilitating the sharing of advice and education is the key focus for us at EdExec.
Networking opportunities As well as bringing together SBMs from across the UK to meet, learn from each other and forge long-lasting relationships, EdExec LIVE allows delegates to meet other industry experts and our EEL partners, allowing you to broaden your knowledge – and your own professional network – even further.
Join us in Manchester or London next year! Find all of the information for the events here!
Don't forget to follow us on Twitter, like us on Facebook, or connect with us on LinkedIn!