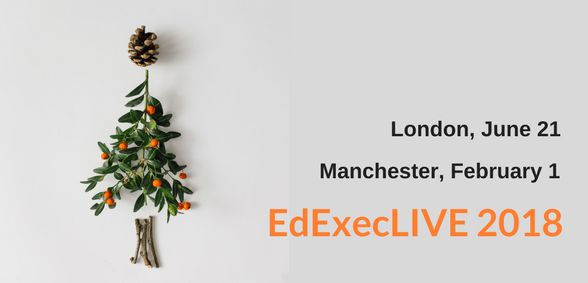 If it's not too early for Christmas adverts then it's not too early to get excited about EdExec LIVE! Speakers, sessions, dates and venues have been announced for our 2018 events – explore who's delivering sessions and on what, get dates in your diary and your ticket booked!
What's it all about? Easy; school business management!
We deliver relevant information, practical advice, aspirational stories and pragmatic solutions to the latest challenges and changes occurring in the education sector. Sessions cover everything from finance, funding, legal advice and staff management to CPD, HR, GDPR and ICT – delivered by sector experts.
Seminars
Dedicated to the issues that affect you and your school, seminars are constructed to provide maximum benefit. EdExec LIVE covers all areas of school business management – pupil premium, finance, academisation, funding, SBM impact, wellbeing…see sessions here!
Speakers
Experts in their respective fields – practicing SBMs, consultants, or industry professionals – speakers are on hand to share their experiences running an educational establishment and/or overcoming the difficulties that the sector faces. Check out sessions and speakers here!
Networking
Networking and developing relationships with peers is core to EdExec LIVE. We aim to create a space in which you can share ideas, experiences and introduce and tackle problems with others in similar situations. As they say, many hands make light work and two heads are better than one.

EdExec LIVE is not about reiterating a situation that we're all aware of, it's about addressing that situation, speaking to peers and sharing experiences and facilitating discussion and – for us – it's about providing concrete advice to benefit you, your school or academy, and wider network.
Don't forget to follow us on 
Twitter, like us on
Facebook, or connect with us on
LinkedIn!