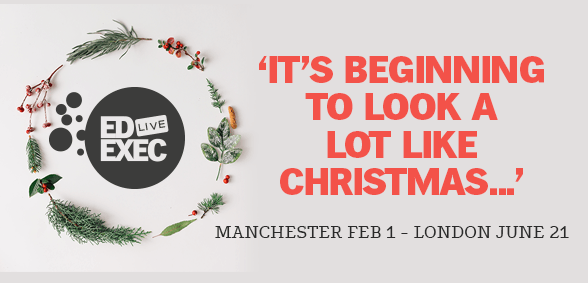 We're making a list and checking it twice we want to…ensure that we have all of the components that make a school business management and leadership event fabulous
Learning, networking opportunities, updates on the latest policy, trends and initiatives affecting your role, practical guidance on leading your school or academy's operational efficiency… We've got it all at EdExec LIVE!
A worthwhile day away from the desk, EdExec LIVE provides you with plenty of information to take back to school, knowledge to be shared and lasting, beneficial relationships to be made – with peers, consultants and service providers join us in Manchester and/or London for our school business management and leadership event!
If you would like to join us – visit our bookings page and secure your place or, if you would like to speak with a member of the team, please get in touch!
So who can you expect to see on the day;
The Schools' buying strategy
The Department for Education will be represented as their newly established Schools Commercial Team will be host a workshop at EdExec Live, Manchester, to hear the views of schools and help shape the services and products that they are introducing to better meet schools' needs – and ultimately make savings.
The challenges of academy conversion
This session will focus on the role of the SBM during and post conversion. Vickie Keeling has risen through the ranks to become trust director at United Endeavours Trust; join her and trust CEO Wendy Whelan to gain a 360-degree perspective on the work of trust directors/SBMs.
Pupils at a premium – do the right thing; show that you're doing it
In this practical, interactive workshop Neil Clephan, recent head of an outstanding through school (four to 18) and Pupil Premium review centre, explores how SBMs and senior leadership staff can use this vital funding and demonstrate value for money.
Blue Ocean strategy for MAT leadership
Stephen Mitchell, chief operating officer, The Mowbray Education Trust, will bring his wit and experience to EdExec LIVE next year, focusing on leadership he offers a fresh perspective. Stephen will blow the account stereotype out of the water.
No event would be complete with out a focus on finance – and we have Paul Leigh – ex-accountant turned chief financial officer joining us to reinvent the way you look at your school's finances.
Overcoming financial pressures and budgetary uncertainty
In this session Paul Leigh, chief financial officer at Focus Trust, looks at the abundance of information available to help you – sign-posting the best resources available to you. Paul will cast a positive spotlight on school finances – looking at things differently and reconsidering priorities and choices. As well as exploring alternative resources at your disposal such as local businesses. This session is about providing alternatives.
And remember, if you would like to join us – simply visit our bookings page and secure your place or, if you would like to speak with a member of the team, please get in touch!