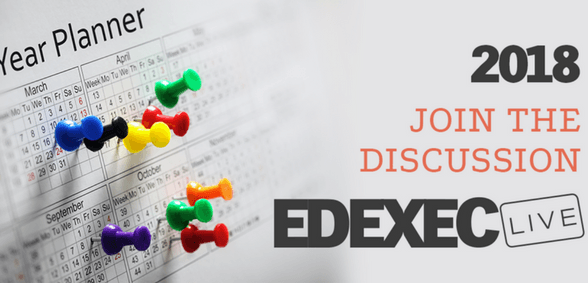 At a school business management conference what are your must have features?
School focused learning? Or, networking opportunities? Exposure to the latest trends and initiatives affecting your role? Or, just a worthwhile day away from the desk with plenty of information to take back to school, knowledge to be shared and lasting, beneficial relationships to be made – with peers, consultants and service providers?
EdExec LIVE delivers all of the above; and this year we have decided to jazz things up a little so that each component is optimised and the value – to you and your school – maximised.
If you would like to join us – visit our bookings page and secure your place or, if you would like to speak with a member of the team for more information, please get in touch!
There are more reasons to attend than staples in a fully stocked office; but, in the name of efficiency, we've made a quick list of our top five: 
1.Tailored to school business management
Budgets tighten and expectations increase; EdExec LIVE is about assessing the educational landscape and mastering the art of treading the financial tightrope. Sessions are budget-focussed and school improvement driven – providing examples of how you can make and save money whilst improving your school's environment and performance.
2.An interactive learning experience
Sessions cover finance, managing your school's brand to attract pupils, parents and teachers – and even financial sponsorship, CPD, innovative ICT, demonstrating impact, GDPR, staff management, academy and MAT management (financial and operational) and more…
All are interactive forums for discussion – no sermons! Visit our seminars page to learn more.
3.Right speakers, right advice
Speakers are experts in their respective fields – practicing SBMs, consultants and sector professionals –  and will present innovative ideas, deliver valuable advice and share practical information you can adapt to suit your needs. Bring your burning questions – our speakers are there to help you find the right solution, or point you in the right direction.
Visit our seminars page to learn more about our speakers and what they will be saying.
4.Time is of the essence
It's not easy leaving school for a day – who knows what might – or might not – happen in your absence! EdExec LIVE is scheduled so you attend the sessions you want. Session clash? Attend one of our optional sessions! You choose. Plus, we have jazzed up the days programme – soon to be revealed – to ensure that you gain the most from every part of the day: learning, networking, discussion…
5.Meet peers from across the UK
EdExec LIVE is a hub of school business management innovation. There's no better support than peer support and our event is an opportunity to meet local and national colleagues, share best practice and form professional relationships. We have factored in plenty of networking opportunities to our timetable.