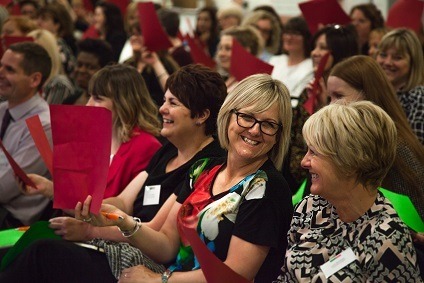 The importance of local and regional SBM/SBL groups cannot be underestimated – they're an opportunity to discuss, learn and share knowledge with others. Our very own Marie Cahalane had the chance to attend the South Yorkshire School Business Leaders Group (SYSBL) annual conference in June, and experienced first-hand what such peer-led organisations provide
In many ways, the role of the school business manager can be a lonely one. While you're surrounded by wonderful and supportive staff, sometimes there's no one to ask for the particular advice that you need at that moment – there is no one in your school who is in quite the same position.
However, you are never alone; there's a multitude of experienced professionals in a similar position to you. You have peers nationwide that would be only too happy to share their experience and insight with you and, together, find better solutions to complicated challenges.
The sum of us
That's the significance of local and regional SBM/SBL groups. They open up channels of communication and enable the exchange of ideas, information and insight – they're an additional support and an additional resource for you (and technically your school). Earlier in the year, I had the pleasure of catching up with Neil Limbrick of The Education Collective, and I think he summed up these support networks perfectly:
"When you talk about 6,000 people, each of whom has been in the job on average five years – likely a conservative estimate – you're talking about 30,000 years of experience cumulatively. Even if they're not in a particular group, there's a way of getting hold of the information you need. It allows everyone to come together and share their expertise and knowledge and that's only going to increase."
South Yorkshire School Business Leaders Group
SYSBL is a group in its infancy – compared to its longer-established peers – having held its first event in January this year. However, it has already garnered great interest and seen its membership grow exponentially.
The premise of the group is to create a central network for SBMs and SBLs in the area who can then support one another. But there are added benefits that come from this level of collaboration; members are able to share best practice and innovative/practical ideas, support and mentor one another, assist with or advise on CPD and even work together for the benefit of their schools. For example, members can identify shared needs – in terms of services and resources – and collaboratively procure and negotiate discounts or deals accordingly.
An opportunity to learn, network and share experiences
By chance I met Louise Hatswell, the group's founder and chair, via Twitter earlier this year. By fortune, Louise invited me to attend the group's first annual conference.

One of the strengths of groups like SYSBL is that they are run by SBMs and address the areas of difficulty and current needs of those involved. This was reflected in the varied line up of the conference, which featured a raft of speakers, all well versed in their areas of expertise and selected by Louise.
Following a warm welcome from the group's chair, the day got under way – kicking off with updates on HR and employment law. Delegates were asked to self-assess, which inevitably sparked lively discussion. This was quickly followed by the first breakout sessions of the day – covering academy conversion, collaborative procurement and funding. At an event that champions collaboration, I thought it only right to attend a session on procurement – which was expertly led by the knowledgeable Lorraine from Minerva Procurement.
After a quick refreshment, Val Andrew of ASCL took to the podium to discuss what's happening in education and where SBMs are positioned within this – assessing the impact sector changes are having on the role and the challenges that are being face as a result of current funding levels.
Motivational speaker Nigel Risner entered the room after lunch – elevating spirits, providing some light relief and some deep introspection. The apprenticeship levy was the next topic on the agenda – and delegates navigated the complex subject with a legal expert who answered the many questions delegates – from academies and maintained schools – had.
Fueled solely by coffee (after another necessary refill), we broke up for the final sessions of the day. These looked at demonstrating impact as an SBM, financial viability and efficiently running a single central-record – areas of real interest to SBMs navigating the changing landscape of education. Before Louise wrapped up a truly educational day – and received an applause that was truly warranted (I'm personally looking forward to next year's event already)
Final thoughts
On my long train journey home – as I wrote up my notes from the event, considered what had been learned and what had been delivered – it struck me that it was the conversations that I'd stumbled into (literally in one case), the discussions that had been sparked and networking opportunities that had been facilitated that really set this conference apart. This is what groups and networking opportunities like this permit, and this is why it is so important for SBMs to move beyond the boundaries of their school – whether that be at events, over the phone or even social media.
Looking forward to the next, and thank you to the SYSBL Group for such a valuable experience.
Don't forget to follow us on Twitter, like us on Facebook, or connect with us on LinkedIn!