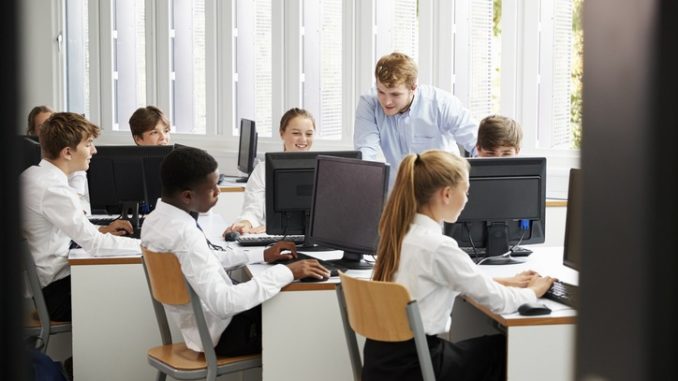 This month's Techno Geek – Gary Henderson, ANME member and director of IT at Millfield School – explores why ICT GCSEs have dropped significantly this year, and what comes next
The number of students taking ICT and computing exams has significantly dropped; the BBC reported a drop from 140,000 students in 2017 to 130,000 in 2018 (BBC, 2018) a drop of seven per cent. Ofqual data for 2019 shows computing numbers increasing from 72,000 to 77,500, an increase of almost eight per cent (Ofqal, 2019) – however, this is against the discontinuation of the ICT GCSE, meaning that, taken together, the computing and ICT numbers have declined by over 40% between 2018 and 2019. Over the two years between 2017 and 2019, the total number of students taking GCSE computing or ICT has, therefore, declined by around 45% – almost half of all computing and ICT students.
Why is this?
The removal of the ICT GCSE has to be considered as the key reason for the reduction. The ICT curriculum, in my view, had always been seen as a course which provided students with a useful skill set in general IT skills – albeit lots of people viewed the qualification as of poor quality. In some cases, this view may have been correct, and the course may have spent significant curriculum time on designing PowerPoint presentations. However, delivered well, providing valuable curriculum time to cover topics such as fake news, ethics concerning digital technology and the risks plus benefits of big data. It also provided useful generalist IT skills across a variety of operating systems, office applications and productivity suites.
The removal of GCSE ICT has meant that such topics are now at the whim of individual schools to decide when – or if – they might be addressed. The removal of ICT – such a widely-known and generalist course – was always going to result in the loss of a large number of students, especially as the alternative – computing – is suggestive of a more specific career path which many students wouldn't consider appropriate to them.
The shift of curriculum emphasis towards computing and programmatic thinking was meant to help fill the skills gap which has been growing in the digital and cyber workspaces. This attempt is, in some ways, laudable – however, it failed to take into consideration the greater specialism which a computing or computer programming-based course involves. Making computing compulsory within the national curriculum has helped to increase the number of students moving on to take computing at GCSE. As a result, more students are now aware of what computing, as a term means, what a computing course involves and the resultant potential career paths – so, in this way, it may be a success. However, as a more specialised course, many students who would previously have opted to take ICT as a GCSE do not consider computing an option.
What next?
My view is that a need exists for a digital citizenship, or similar, programme. This could cover the required general skills relating to different software types, cybersecurity, fake news, ethics and several other topics pertinent to students who will have to live in the increasingly digital society in which we now find ourselves. Such a programme would need to be written from the ground up and, therefore, would not be burdened by the history which ICT as a curriculum area had.
In the meantime, while we wait for such a subject to be introduced, I think it is up to individual schools to identify whatever time they can in their already busy curriculum to prepare students for an increasingly digital future. For now, this is the best we can do.
Don't forget to follow us on Twitter, like us on Facebook, or connect with us on LinkedIn!