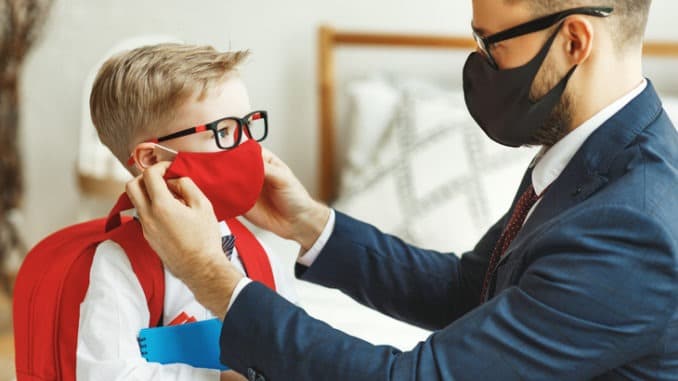 Parentkind most recent poll reveals many parents still remain concerned about sending their child back to school
Just under half of parents say no to children going back or remain undecided on whether to send their children back to school, a recent poll by education charity Parentkind found. The poll also found an overwhelming majority of parents oppose the levying of fines for children's non-attendance at school this term and a majority support children wearing face masks during the school day.  
The survey asked parents three simple questions about the biggest issues of the day when it comes to education and schooling.
In response to whether or not they planned to send their child back to school full-time at the start of term, over half (55%) of parents answered 'yes'. This left a sizeable proportion of more than a quarter (26%) who said 'no', while a further fifth (20%) remain undecided.
Parentkind found that parents were split on the use of face masks during the school day. 42% supported the measure, but 30% opposed it. A further 28% were ineligible to respond because their eldest child is 11 or under, and therefore excluded from wearing face masks.
Finally, on whether or not parents should be fined for not sending their children back to school this term, an overwhelming 78% opposed the measure. 13% supported it and 10% were unsure. The question was posed in response to the government in Westminster's policy to make attendance compulsory with few exceptions from September.
Parentkind CEO John Jolly says: "Parentkind continues to support every parent's right to decide for themselves when it is safe for their child to return to school. Punitive measures such as fines can lose the confidence of parents and create an 'us and them' situation. We urge policymakers in England to listen to what the vast majority of parents are saying and adopt a more conciliatory approach that acknowledges their right to be consulted and make choices when it comes to their child's education.
"Where previously the prospect of the new academic year traditionally raised concerns about starting school, moving up to senior/post-primary school or entering the run-up to exams, the coronavirus pandemic and school closures have added further worries and complexities for every parent in managing their child's day-to-day school experience. Policymakers and schools can help to allay the fears that our survey has revealed so many parents continue to hold, by keeping them as informed as possible so that they know what to expect and can confidently prepare their child. A robust home/school partnership is always important, but it is especially crucial during this critical time of returning children to the classroom and addressing any outstanding parental concerns."