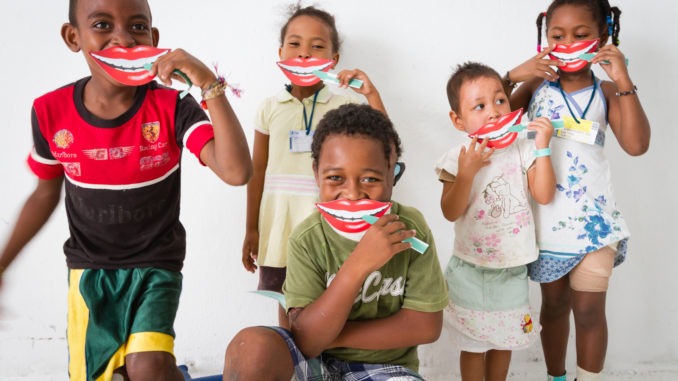 The 43rdannual National Smile Month has begun! We look at some of the ways your school can get involved in the campaign
National Smile Month is a global oral health initiative, led by the Oral Health Foundation, which aims to help us achieve good physical and mental wellbeing by improving our oral health.
The campaign is centred on three important messages:
Brushing your teeth last thing at night, and on one other occasion each day, with a fluoride toothpaste;
Cutting down on how much sugary food and drink you have and how often you have them; and
Visiting your dentist as often as they recommend.
Oral health education
Developing good oral health from an early age is extremely important. By adopting healthy habits as soon as possible, it is far more likely children will maintain them going into adulthood. This is a really positive step and something that should be highly encouraged.
Sadly, oral diseases in our children remain far too high; around one-in-four British children start school with tooth decay and many are having rotten teeth removed under general anaesthetic at hospitals all across the country. This is a truly heart-breaking situation and one that can be easily prevented by more oral health education for children and families.
Get your school involved
This year around 750 schools are taking part in activities linked to National Smile Month. We would love for you to join us and help educate young people about the importance of good oral health. Here's how:
Smileathon – all you need are some 'Smileys', a camera/smartphone and access to your school's Facebook or Twitter account. It takes a matter of seconds and is a great way of getting your pupils to get involved with the campaign and letting the world know that your school is supporting National Smile Month 2019. It's sure to put a smile on the kids' faces, while teaching them some key facts about their mouth at the same time!
Two-minute challenge – organise a tooth-brushing competition for your class. The child who is closest to brushing their teeth for two minutes, without the aid of a clock or watch, wins a small prize. It's a simple and fun way of teaching the value of a regular, effective oral health routine.
Class visit to the dentist – building links between your school and a nearby dental practice can be one of the most rewarding National Smile Month activities! Arranging a class visit to the dentist is a really fun, enjoyable and interactive route for children to be introduced to dentistry. This activity allows young children to get used to the sights and sounds of the dentist and to form a relationship with them. This will prove vital as they progress through their early years and into adulthood. Be prepared, tell the practice what you would like your kids to be shown and to learn, distribute a parental approval form and get the trip pencilled in!
Share A Smile – Share A Smile is fantastic competition which also educates and engages young children about oral health and hygiene. The competition is divided into three age groups, from nursery to secondary school. Children can either fill in a colouring sheet, write a poem or draw (or paint) a poster. There's just one rule – all these activities should have the theme of a healthy smile. Head to our campaign website to download the colouring sheet and find out more about Share A Smile. This is also the perfect time to use our materials and resources (like Dental Buddy) to teach children about the importance of oral health and hygiene – and how they can achieve a healthy smile.
Create, display and educate – incorporate a number of different teaching techniques into your classroom. Why not take an art and craft approach by building some papier-mâché 'Smileys' or painting some oral health posters? Alternatively, create some dazzling National Smile Month displays and let the children fill the room with them (or take them home). Both are great ways of getting across key oral health messages in a different, more creative way.
Get in the National #SmileMonth spirit by taking part in one of these activities. More ideas are available on the campaign website at
www.smilemonth.org
. We can't wait for you to join us in improving the smiles of children everywhere.
Don't forget to follow us on 
Twitter
, like us on 
Facebook
, or connect with us on 
LinkedIn!