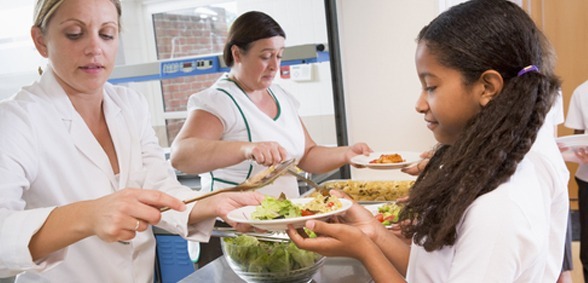 CREDIT: This story was first seen on Full Fact, the UK's independent fact checking charity
A pilot programme giving all primary school children in parts of the country a free daily meal 'had a significant positive impact on attainment', according to an evaluation by social researchers.
Durham, as well as Newham in London, tried the scheme over two school years from September 2009.
Pupils in both those areas did better in all subjects than comparable children in areas where the pilot wasn't happening. The differences weren't all statistically significant when looking at test scores by the end of Year 2, but were "positive and significant" for pupils in Year 6. The report said that it was equivalent to two months' expected progress at this stage.
That said, the researchers noted that the reasons for this aren't clear. So they recommend caution, albeit not very prominently, when reading the results:
"The results presented in this chapter must be interpreted with some caution, however, as the mechanisms underlying these improvements in attainment are not clear. The universal pilot did not appear to significantly improve children's behaviour or absence rates from school, making it difficult to pinpoint the cause of the improvements in attainment and thus which elements of the universal entitlement pilot are key to its success."
This caveat was reiterated recently by one of the report's authors, Lorraine Dearden. She told the BBC that "it would be overstating it quite a bit" to say that this study justifies a nationwide roll-out of free school meals for all pupils.
Another co-author told the Guardian a few years ago that "from the pilot evidence, we cannot definitely conclude that attainment will be raised through the universal provision of free school meals to reception, year one and year two children" [universal provision for these years has since happened].
The Liberal Democrats pointed us to other studies showing the benefits of free school meals, although they aren't as directly focused on attainment.
They include an evaluation of a 2004 pilot in Hull, after which teachers reported improvements in their pupils' "readiness to learn" and some other studies from the last decade that point (sometimes tentatively) to the educational benefits of improved pupil diets.
Don't forget to follow us on Twitter, like us on Facebook, or connect with us on LinkedIn!