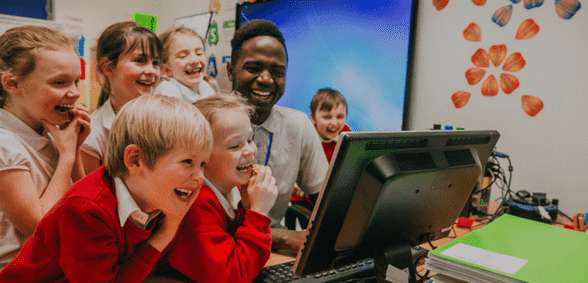 Edtech applications are increasingly being used in classrooms to enhance teaching and learning – however, do schools know what's being used? What are the benefits, and are they GDPR-compliant?
With technology becoming ever more prevalent in the classroom, it's no surprise that this has evolved into the use of educational applications; teachers all over the country are utilising the benefits of apps within their classrooms. Why? Because apps are a language their pupils understand. The generation of children currently at school generally have easy access to mobile phones, tablets and laptops; as such, apps are often a great way to keep them engaged in the classroom and can provide a range of learning benefits.
However, as teachers share their favourite educational apps with pupils, do they know everything about these programs? Are these apps legitimate and approved? What are their benefits? Are they even safe and GDPR-compliant? Is there a chance some teachers keep quiet about the use of certain apps for fear that they will be told to stop using them?
We spoke to the Association of Network Managers in Education (ANME) for comments from members on what they think about classroom apps and their impact.
'Unrealistic levels of progress'
One respondent, who has 15 years' experience in education, but chose to not be named, isn't impressed by the way edtech is shifting. "I have a big problem with these apps," they said, "in that we have seen them all come and go, often at vast expense to the school and, normally, taken out of our budgets. Teachers – particularly at middle management level – get taken in by the latest innovations promising to drive up results, giving students unrealistic levels of progress, and so on. They have the ear of senior management, who drive the brand new shiny toy through with little consultation; after six-to-eight months the initial excitement has calmed down, the results aren't forthcoming and the program is ditched."
Security
This person doesn't believe there are any specific apps which deliver great results – besides the larger tools like Google Classroom– they also think that security is, indeed, an issue. "We have a difficult job with GDPR. There are some excellent resources from the US, which teachers are keen to use, but, without us being able to align their terms of service with GDPR, we can't properly let them sign up."
Chris Davis, another ANME member with eight years' school experience and 20 years in business, is also worried about the data security element of classroom apps. "A particular concern with GDPR is the extent to which data is harvested – often teachers, parents and, indeed, students themselves are unaware that information relating to choices within the systems and browsing habits are being collected."
Ensuring effectiveness
Chris also agrees with our previous contributor regarding the lack of research undertaken before a new app is introduced to the classroom. "Unfortunately, in many schools, tools arrive on a whim from someone in senior management – there is little or no attempt to gain buy-in from teaching staff and, even when a system is used, no measurement is applied to ensure effectiveness."
All of this aside, Chris doesn't believe that apps are, inherently, a bad thing – just that they haven't been used well in schools thus far. "Online tools can reduce costs by automating lesson planning, homework setting and assessment of what has been learnt. They also allow teachers to take a blended approach to learning, allowing what is taught in the classroom to be researched and discussed outside the normal teaching environment."
Getting the best out of the system
However, he says, like any system, apps need careful consideration when being selected. "More importantly, they need their performance reviewed against expectations after implementation is complete. The right tool, used correctly, can yield tremendous benefits including a flexible approach to learning, but the environment, inputs and outputs need careful thought to get the best out of the system, ensuring learning is maximised and personal information remains secure."
Chris also believes that parents, as well as teachers, need more input in the app selection and use process, as parents are often left out of the loop entirely.
Rick Cowell, MD of the ANME, also weighed in on the topic; he agrees that classroom apps can be a boon to education, and that not enough consideration is given to GDPR, but he also outlines some other important factors to take on board when choosing and implementing a classroom app.
How well is the app developed and updated?
How good is support from developers?
Are there any prerequisites for PCs? (For example, the use of specific browsers, plugins, etc.)
How efficient is the app's use of bandwidth, particularly if a class of 30+ are all using it at once?
If it is a fee app, how intrusive and appropriate are the adverts?
If it is a paid app, are there bulk purchasing options? Are there free alternatives available?
Are the charges one-off or annual?
Do students need to create accounts?
Is the app compatible with other devices?
If statistical data is generated from the system, can it be downloaded and used or analysed offline?
Are the charges one-off or annual?
Safeguarding
"These points are from a technical and financial point of view, but there are safeguarding considerations too," says Rick. "For example, is there a collaboration or chat feature? If so, is it limited to just users from the school or all users of the app? All this – and possibly more – should be considered before making the decision to start piloting an app with a test group of users."
Rick is certain that, when chosen well, apps can be as beneficial as any other classroom tool. The advantages he believes are available include:
Storage and backup, meaning the school network needs to store less data.
Students having access to software and resources in their pockets and at home.
Software is updated and maintained automatically by the developers, meaning updates happen simultaneously for all users.
Schools could save on replacing ICT suites with a full BYOD policy.
All concerns aside, Rick urges schools to embrace apps and advanced IT in the classroom, reminding them that IT support time is "…not just there to fix printers and swap mice".
This article featured in the February issue of Education Executive. Subscribe now to keep up-to-date with the latest in school business management and leadership.
Don't forget to follow us on Twitter, like us on Facebook, or connect with us on LinkedIn!