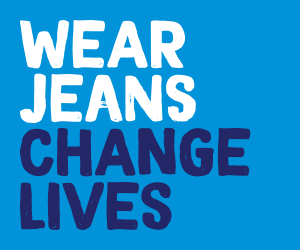 Genetic Disorders is gearing up for a new Jeans for Genes campaign, starring some iconic heroes
Genetic Disorders UK is proud to announce the launch of Jeans for Genes Day 2019, the annual fundraising campaign which, this year, will be supported by Warner Bros. UK, a host of famous faces and two very special DC Super Hero icons: Batman and Batgirl.
Some of this year's ambassadors include Lauren Pope, Sophia Hadji Panteli, Mollie King, Una Healy, Kimberly Walsh, Malin Andersson, Kedar Williams-Stirling, Josh Patterson and Eyal Booker.
Warner Bros. UK has, for the first time, agreed an exclusive charity partnership, with Batman and Batgirl featuring on the limited-edition Jeans for Genes Day t-shirt.
The t-shirts will be sold online with all profits going to support children living with genetic disorders.
This year, the campaign is giving people the choice of when to don their best denim outfits, encouraging individuals to sign up for a free fundraising pack and to pick the day that best suits them to hold their Jeans for Genes Day between Monday 16 and Friday 20 September.
The campaign raises funds to support children and families affected by life-altering genetic disorders. Money raised on Jeans for Genes Day will fund the work of Genetic Disorders UK and provide grants to organisations for projects, day-to-day support, equipment, respite and events which bring together affected children and their families.
It is estimated that one in 25 children is affected by a genetic disorder, which means 30,000 babies and children are diagnosed in the UK every year.
Whereas some disorders are apparent at birth, others are diagnosed at different stages throughout childhood.
Laura Pattison, campaign director for Jeans for Genes Day, said: "We are all extremely excited about our partnership with Warner Bros. UK and having two such iconic characters as part of the design for the 2019 t-shirt.
"Our goal is to help the significant number of children and their families affected by genetic disorders from across the UK, and with Batman and Batgirl offering us a helping hand we hope this year can be our most successful yet."
Josh Berger, president and managing director of Warner Bros. Entertainment UK, Eire & Spain. commented: "We are celebrating Batman's 80th anniversary this year and Warner Bros.
"UK is thrilled to be partnering with Jeans for Genes Day to support such an iconic fundraising campaign. Batman is always 'fighting for a good cause' and this is a great way to help support children and families facing difficult challenges in their lives."
Don't forget to follow us on Twitter, like us on Facebook, or connect with us on LinkedIn!