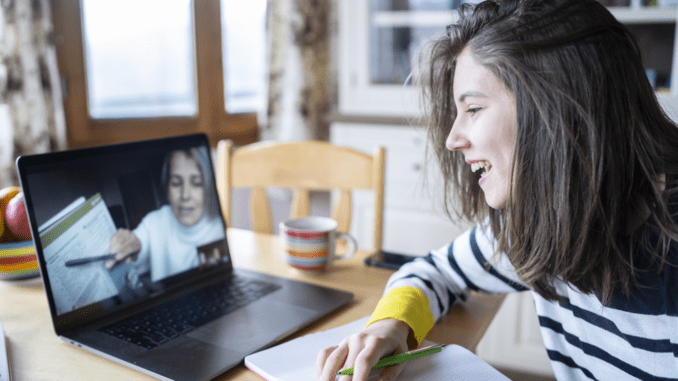 Hugh Viney, headteacher at Minerva's Virtual Academy, discusses the transformation of remote education which has occurred over the last year
The impact of school closures over the last year or so have fast-tracked exposure, and wider acceptance of, digital learning ten-fold, not just for students but for schools and teachers too. As progressive learning continues to shift more towards online platforms, reliance on the use of technology – both inside and outside of the classroom – is becoming more widespread. Historically, teaching has always been about 'presenteeism' in the classroom, but advances in digital learning platforms mean a teacher no longer needs to be physically 'present' for the delivery of every aspect of a lesson, and the future role of teaching will need to adapt in line with this.
The potential of online learning is vast. It is likely that future classroom-based teaching time will adopt a more blended approach to delivery – an element of face-to-face combined with digital learning – thereby freeing-up teaching time and resource to allow for more focused mentoring. Teachers will, increasingly, need to hone their skills to become focused motivators, engaging in deeper, one-to-one feedback, as well as meeting the complex social and emotional demands of a diverse pupil population. That said, many of the more traditional, core teaching skills – such as a passion for education, and retaining the ability to inspire and enthuse children – will remain at the heart of teaching.
Personalised learning provision
Freeing-up teaching resource, improving efficiency, and reducing the paperwork that has always gone hand-in-hand with traditional schooling, will also allow teachers to spend more quality time with pupils who are struggling, or require more regular intervention. Essentially, online platforms will help to shape more tailored, individual, learning provision in schools.
Personalised learning has become a major talking point within the education sector of late, along with the need to nurture teaching skills to deliver a more individualised approach to learning. Not all children learn at the same pace or in the same way so this is really about balance, and flexing, to adapt to different styles of learning, whereby all children have the opportunity to achieve to their highest potential, and to be the best they can be.
There is much evidence out there to support the notion that effective learning can be delivered via fit-for-purpose online learning meaning that guided learning, led solely by a teacher, may not be the best use of time or talent in some scenarios. For example, the entire GCSE syllabus across 11 different subjects can be studied without the physical need for a teacher to be present, providing there is an option to obtain support as and when it is needed – this is where teaching as a role needs to adapt. Teachers of the future will focus more on bespoke intervention, motivation, wellbeing, mentoring, nurturing confidence and boosting resilience in pupils while they learn and flourish.
Performance and attainment can also be tracked effectively online. In the future, teachers will benefit from monitoring how their pupils work online and will be able to spot potential issues and provide the right support at the right time. Many sophisticated learning platforms will also ensure that a pupil cannot move on to the next topic or lesson until they have completed the current task sufficiently, and in line with the teacher's requirements, for example. Teachers can also benefit from additional proficiency testing features via online platforms for an additional layer of certainty.
In a sense, the role of the teacher is simply evolving to become more specific and more honed to each child. Although it is likely that teachers will have to relinquish a greater element of physical control than previously, they will be able to use this to their advantage in providing deeper, more focused, learning direction.
Evolving teaching skills
The pandemic forced schools, teachers, parents and pupils to become Google Classroom and Zoom literate overnight, but it is the extensions, the add-ons and the additional digital resources, available to deliver effective lessons, that teachers will need more training on. Traditional schools would never have used cloud software to run their learning operations had it not been for the pandemic so, from this perspective, the pandemic has fast-tracked the education sector by about 10 years. This undoubtedly means that the skills teachers need today around digital learning will continue to grow.
Teachers will, inevitably, continue to build on their level of tech literacy simply via hands-on, day-to-day learning. Teachers will become used to accessing homework, learning content, correspondence and test results via the cloud, centralised in one place. This is particularly relevant as we head towards another summer of teacher assessed grades, and an ongoing requirement to build a robust evidence trail of assessments – cloud computing will play a significant role here, and teachers will be building new digital skills, on the job, as part of this requirement.
Teachers will also have new responsibilities as digital learning evolves – for instance, understanding who has accessed or downloaded data, in what location, and even onto what device, will become part of a teacher's responsibility in the future, supported by technology.