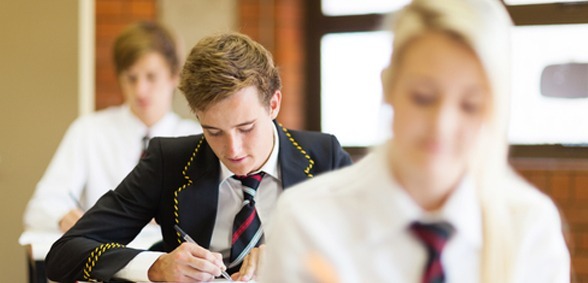 CREDIT: This story was first seen in the Guardian
Labour MP launches campaign to ease burden on parents two years after former chancellor said he would allow challenges to extortionate requirements, the Guardian reports.
The government has been accused of reneging on a promise to make school uniform more affordable, nearly two years after it agreed that parents should be able to shop around and not be restricted to "extortionate" tie-ups with preferred suppliers.
Backed by The Children's Society and as the new school year begins, Labour MP Sarah Jones has launched a campaign calling on the government to ease the burden on parents and deliver on its pledge to lower school uniform costs.
In a meeting with the schools minister, Nick Gibb, next month, the MP for Croydon Central will urge him to consider a price cap or ban on heavily branded uniforms as part of a fresh drive to make clothing affordable for the most hard-pressed families.
Jones says parents in England could save up to £1.3bn if uniform costs were "reasonable", and she told the Commons this week that millions more could be saved after Brexit by making school uniform exempt from VAT. A campaign to abolish VAT on secondary school uniform was blocked by EU rules in 2007.
Her campaign comes nearly two years after the government promised action, following research showing that 95% of parents thought uniform costs were unreasonable. In November 2015, the then chancellor George Osborne promised to make government guidance on school uniform legally binding, giving parents the power to challenge extortionate uniform requirements.
That required schools to make the cost of uniform the top priority and to "keep compulsory branded items to a minimum". However, the guidance has not been made statutory, Jones points out, and it is widely ignored by schools.
Government-commissioned research in 2015 found that over a quarter of secondary schools required three or more uniform items with a badge or logo – attracting premium prices – while the number of schools that require uniform to be bought from a specialist supplier doubled between 2007 and 2015.
"The government has failed to deliver on its promises and, for a second successive summer, parents have continued to feel the pinch of high school uniform costs," Jones said. "It's incredibly frustrating for parents to see supermarkets competing and offering very low prices when their child's school requires items to be purchased from a sole supplier. There are particular concerns over academies, where branding of uniform seems to be increasing."
This summer German discounters Lidl and Aldi went head-to-head to offer an entire primary school uniform for £3.75. But many schools did not allow these because they did not have the correct school branding, logos or colour.
This week Prince George started at the £18,000-a-year Thomas's Battersea school in a £340 uniform, from Peter Jones in Sloane Square, part of the John Lewis group. Parents typically spend more than £365 on a school's winter and summer uniforms, including branded jumper and bag.
A spokesperson for the Department for Education said: "Our existing guidance is clear that, when setting their uniform policies, schools should keep costs to a minimum and be affordable for everyone."
Don't forget to follow us on Twitter, like us on Facebook, or connect with us on LinkedIn!