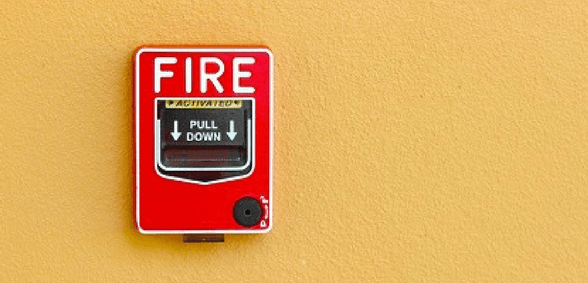 In a joint letter to secretary of state for education, Damian Hinds, unions said that the government is jeopardising fire safety in schools
The National Education Union and the Fire Brigades Union have written to the secretary of state for education, Damian Hinds, about the schools being rebuilt without fire sprinklers.
Barely six months after the government caved in to pressure from the National Education Union and the Fire Brigades Union not to weaken fire protection arrangements for schools, it appears that it is merely paying lip service to its own advice, allowing it to be routinely flouted in the rush to build new schools as cheaply as possible.
Building Bulletin 100: Design for Fire Safety in Schools [1] (page 12) is clear that all new schools should have sprinklers fitted, "except in a few low risk schools". It would appear that the definition of "a few low risk schools" encompasses Selsey Academy in West Sussex, which burned down in 2016 and, inexplicably, is being re-built without sprinkler systems fitted.  This is not an isolated case.
The school at the base of Grenfell Tower (Kensington Aldridge Academy), built in 2014, does not have a sprinkler fitted.  We would question how a large multi-storey secondary school in central London could possibly have been assessed as one of "a few low risk schools".  None of the 35 Croydon school building projects since 2012 were fitted with sprinklers.   Thirty-two new schools are due to be constructed in Northamptonshire, without sprinkler-systems fitted, despite the clear "expectation" that this should happen.  It is inconceivable that all these schools are "low risk".
In fact, since 2010 only 35% of new schools have been fitted with sprinklers.
Sprinklers not only save lives but they reduce rebuild costs and time, mean less disruption for children and staff, and reduce risks to firefighters.
New school buildings in Scotland and Wales, whether or not they are replacements for those burned down, are required to have sprinklers fitted. Today we are calling upon Damian Hinds to ensure that staff, children and fire fighters are offered the same protection, in terms of life and property, wherever they live in the UK.  This shouldn't be too much to ask.
Andy Dark, assistant general secretary of the Fire Brigades Union, said: "The government's attitude toward fire safety is shockingly cavalier. Sprinklers play an important role in preventing the growth of fire, limiting damage to buildings and saving lives.
The cost of fitting sprinklers represents a very low investment when weighed against the potential threat to life, the damage to buildings and the disruption of children's education if there is a fire in a school. It is essential that the government act immediately to make it a legal requirement for sprinklers to be fitted in all new school buildings."
Kevin Courtney, joint general secretary of the National Education Union, said: "Grenfell Tower should have been a defining moment in the way we view safety in public buildings but it seems that health and safety is still seen as an opportunity to cut corners and save money.  The same protections which apply across Wales and Scotland should cover England too.  It's clear that the only way forward is for the 'expectation' that sprinklers be fitted to new school buildings to become a legal requirement.  Otherwise the policy will continue to be flouted."
Don't forget to follow us on Twitter, like us on Facebook, or connect with us on LinkedIn!