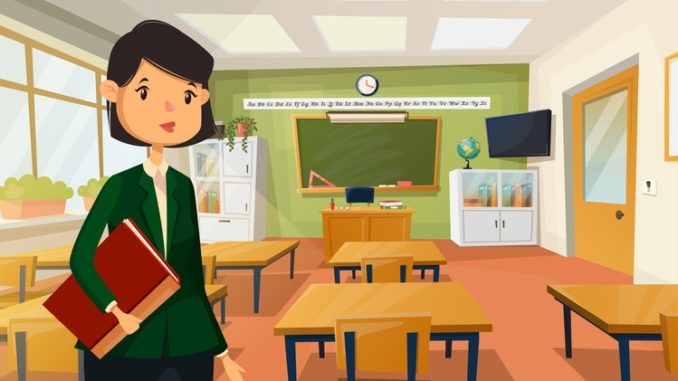 The apprenticeship levy is a UK tax on employers used to fund apprenticeship training; it's  applicable to all employers with a payroll exceeding £3m. Employers that pay into the apprenticeship levy, and create an apprenticeship service account, will be able to use up to £9,000 of funding from this account to cover the cost of training and assessing an apprentice. So how can your school get involved with, and use, this scheme?
Accessing the apprenticeship levy provides a budget-friendly opportunity for schools to 'grow their own' teachers and school staff in the midst of a severe recruitment and retention crisis – just 84.7% of those teachers who qualified in 2017 were still working in the sector after twelve months. Using the levy to fund apprenticeships is also an invaluable solution to the high costs associated with teacher recruitment, with the average cost of recruiting a teacher standing at £3,000, and some agency 'finder's fees' costing as much as £10,000.
In the face of these persistent education workforce recruitment and retention issues, it is vital that new routes into teaching are explored and funding is fully utilised. Robyn Johnstone, CEO of teacher recruitment and retention specialist Education Placement Group, strongly believes that more schools should consider signing up for teaching apprenticeship programmes.
"When schools have to count every penny, growing teachers organically, through a funded programme makes a lot of sense," she says. "Growing your own teachers is a step change for headteachers nationwide who are looking to fulfil their staffing requirements in a climate where numbers of NQTs are falling and qualified teachers are leaving the profession."
The Teaching Apprenticeship Programme (TAP) 
Graduates are employed by the school for a minimum of 12 months during their initial teacher training (ITT).
After nine months, they achieve qualified teacher status (QTS) and complete end-point assessment to pass the apprenticeship.
Graduates have the option to integrate the PGCE into TAP.
Apprenticeship training is delivered by a Department for Education approved ITT trainer.
Trainee teachers are paid in line with unqualified teacher salary scale, starting at £21,641 in Inner London and £17,208 across the rest of the country.
The apprentice
Gemma Longhurst is a music teaching apprentice at Carshalton Boys Sports College, training  through the apprenticeship programme. She spoke to Education Executive about the benefits of the apprenticeship levy for schools and trainees.
"From a young age I wanted to be a music teacher – I know, first-hand, the transformative role a good teacher can play! I come from a single parent family with a fairly low income – affording music lessons would have been difficult. My teachers offered me subsidised flute, singing and piano tuition; without this support I couldn't have pursued a career in teaching music.
"Upon completing my degree, my route into teaching was less straightforward. I was working as an SEN support assistant when I heard about an opportunity to train as an apprentice with teacher training provider e-Qualitas at a school I knew and liked.
"The Teaching Apprenticeship Programme (TAP) is a fee-free, salaried route for graduates to gain QTS by the end of the year – QTS is required to teach in UK government-maintained schools. A work-based route was appealing to me because I wanted my training to match the everyday reality of teaching – as a teaching apprentice you are responsible for your own classes and integrate yourself into one school rather than complete a number of different placements.
"The programme provides trainees with a school-based trainer and an e-Qualitas tutor, who are both incredibly supportive. e-Qualitas also runs training days and modules to support your development, which are useful and an opportunity to share experiences with other trainees.
"Balancing work with training means the workload is full-on, but you are well-supported and, with good organisation, it is manageable. Taking responsibility for my own classes can be a lot of pressure, but it allows me to try out different teaching methods, helping to build a sense of the kind of teacher I want to become.
"Having a say over where you work is incredibly empowering and has allowed me to develop my own personal teaching philosophy. It can be difficult to be placed somewhere which you know isn't the right fit. With the apprenticeship programme, you are employed by the school, allowing you to choose a school where you'll enjoy training!
"It's a great option for people who are already working in a school setting and would like to gain QTS – they can qualify without needing to leave a school, or give up a salary for a year.
Benefits for schools
The benefits of teaching apprentices for schools are equally notable. School senior leadership teams are afforded a lot of autonomy, as they select the apprentice themselves, as opposed to other processes where the organisation places a trainee without input from the school. As a result, schools can employ a trainee who they feel will be an asset to their institution. Hosting a trainee teacher enables schools to inform the apprentice of their school's vision, helping senior leadership teams find and shape future full-time staff who will have the same priorities and focus as the school.
"The financial advantage is significant too, as apprentices are, by nature, cheaper than other employees. Schools can apply for grant funding to subsidise their salary (grants vary dependent upon subject and phase) but, importantly, the training is also paid for by the apprenticeship levy," Gemma explains.
"Teaching apprenticeships are a budget-friendly way to improve staff retention; the supportive nature of the course definitely encourages teachers to stick at it longer! It's a tough job, but the level of care received means I feel free to experiment with new methods and make mistakes, which has led to a really enjoyable experience. I feel lucky to be at a school I love; I am equally challenged and supported, and I know this is where I would like to teach for the foreseeable future."
Don't forget to follow us on Twitter, like us on Facebook, or connect with us on LinkedIn!