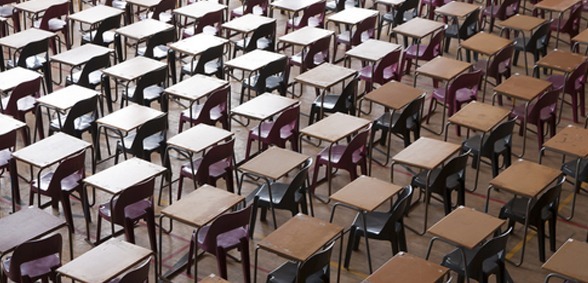 A speech delivered at yesterday's ASCL conference outlined why GCSEs might be an outdated system
Geoff Barton, general secretary of the Association of School and College Leaders (ASCL), warned on Saturday about the negative impact of the GCSE system on thousands of pupils saying: "Why do we insist in rubbing their noses in disappointment?"
His comments, in a speech to 1,000 school and college leaders at ASCL's annual conference in Birmingham, follow Friday's publication of an interim report by a Commission of Enquiry into the 'forgotten third' (187,000) of pupils who fail to achieve at least a Grade 4 'standard pass' in GCSE English and maths.
The Commission was established by ASCL to look at how to improve the prospects of these young people. A system called 'comparable outcomes' roughly establishes the percentage of pupils achieving the respective grades at GCSE by looking at what cohorts of similar ability have achieved in the past, meaning that around a third consistently fall below the Grade 4 standard.
In its interim report, the Commission has outlined a series of key questions, including whether students should continue to have to resit English and maths GCSEs post-16, saying there is strong evidence this government requirement is not working and "is a significant waste of student potential and teachers' resources."
Barton said: "What does it feel like on GCSE results day to go and collect your results when you have gained a Grade 3 in English and maths? As soon as we deem a Grade 4 a 'standard pass', and a Grade 5 the more aspirational 'strong pass', where does that leave you with your Grade 3?
"What are we as a nation saying to a young person who after 12 years of being taught by teachers through early years, primary and secondary education, gets a Grade 3 and then two years of mandatory resits. Why do we insist in rubbing their noses in disappointment?
"Last summer, there were nearly 190,000 children who didn't achieve at least a Grade 4 in English and maths. This year, because of the way our examination system works, determined not to allow accusations of grade inflation, there will be a similar number.
"How can it be right that so many young people emerge without qualifications which are viewed as a passport to further study and future employment? We do this in the name of rigour apparently. But are we in fact judging the success of the majority by the perceived failure of the minority?
"Because our system is predicated on the fact that for all those top grades and students pictured in local newspapers jumping for joy, thousands of students must score 3s, 2s and 1s.
Those international jurisdictions we are exhorted to admire wouldn't consider it reasonable to assume a decent education system has to be based on a third of its young people not achieving the national standards.
"Surely we owe them the dignity of a qualification?
"Chaired by distinguished educationalist Roy Blatchford, ASCL's Commission of Enquiry into the 'forgotten third' published its interim report yesterday, raising questions about the nature of the current GCSE English language examination and exploring other ways of recognising achievement in the basics.
"It will publish its final report in June, and before the usual suspects sound the predictable warning about the danger of prizes for all, it is maybe worth reflecting that the interpretation of education as a sporting event is what has got us into this mess in the first place.
"That groundbreaking qualification designed for a different era, in which students then either left school or proceeded to college or the sixth form, is buckling under the weight of expectations. We use it to judge the child, the cohort, the teacher, the head, and the school.
"And, in the process of reform, we've ended up with a system in which the average 16-year-old is sitting more than 30 hours of exams. How can that possibly be necessary, given the GCSE should chiefly be there to help a young person make the right choice in post-16 progression?"
Don't forget to follow us on Twitter, like us on Facebook, or connect with us on LinkedIn!