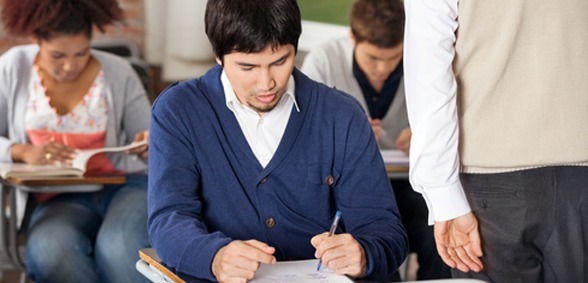 New research carried out by the National Foundation for Educational Research (NFER) has found that headteacher retention rates have fallen since 2012, giving cause for concern.
Teacher retention and recruitment is a widely recognised challenge facing education in England. This new study investigates the issue at senior leader level. Researchers found that, although more than 90% of headteachers are retained in headship each year, retention rates have fallen between 2012 and 2015, particularly in secondary schools.
The NFER report Keeping Your Head: NFER Analysis of Headteacher Retention, published Friday 28, found retention rates for primary headteachers fell from 94% in 2012 to 92 per cent in 2015 and for secondary headteachers, retention fell from 91% in 2012 to 87% 2015.
The report, a combination of a quantitative analysis of School Workforce Census (SWC) data over a five-year period from 2011-2015(1) and in-depth qualitative telephone interviews with headteachers, also looks at the factors which may influence the retention rate, such as Ofsted ratings, academisation, school context and other influences.
Its key findings include:
higher retention is seen in schools rated Good or Outstanding by Ofsted but lower retention is seen in schools rated as Inadequate (particularly in the first year following downgrade and if the head has been in post for two years or more at the time of downgrade)
headteacher retention rates are lower in schools with low levels of attainment
higher retention is seen in convertor academies and single academy trusts. However, lower retention is seen in sponsored academies (particularly at the point of sponsorship and if the head has been in post two years or more at the time of sponsorship) and in larger (16+ academies) Multi-Academy Trusts.
The latest research also explores the factors influencing decisions to leave or remain in the profession. A number of recommendations, such as clarifying the career pathways of headteachers, are made for those with a role in retaining heads or developing future leaders and that might prevent effective headteachers leaving or might encourage them to return to headship.
NFER Chief Executive, Carole Willis, commented: "The leadership pipeline is vital to the success of our education system. Given the challenges facing the system it's more important than ever to understand how head teacher retention rates are changing, and why. Through this new research we provide some insight into the motivations of headteachers who stay in their role or leave the profession entirely. We also identify practical steps to help schools, governors and policy-makers keep more headteachers in the profession."
This is the latest in an NFER programme of research into the teaching workforce and builds on earlier reports: Engaging teachers: NFER analysis of teacher retention and Should I stay or should I go? which explore how engaged and supported teachers feel and how this relates to their intention to remain or to leave the profession(2).
NFER is currently working on a major new analysis to improve understanding of teacher retention and workforce turnover with funding from the Nuffield Foundation. The first research update from this project is due to be published in May.
Geoff Barton, general secretary of the Association of School and College Leaders (ASCL), said: "It's worth reminding ourselves that 90% of headteachers are retained within the system from one year to the next – a sign of how rewarding the role is for many leaders.
"This report makes sensible and practical recommendations about how to improve the retention of heads. We fully support these. We also note that the real pressure on those who leave headship often comes from outside the school – from judgements made within an overly punitive accountability system. We need to be quicker to celebrate the successes of school leaders in challenging contexts and slower to criticise.
"With our membership of more than 18,000 school and college leaders, ASCL is pleased to play an important role in developing the next generation of school leaders through advice, coaching and mentoring."
Don't forget to follow us on Twitter, like us on Facebook, or connect with us on LinkedIn!