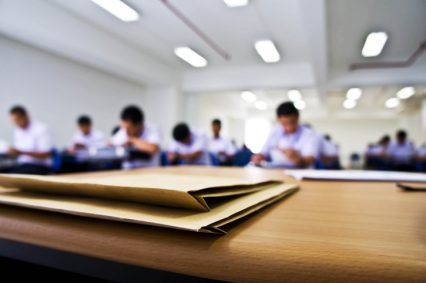 CREDIT: This story was first seen in The Telegraph
An outstanding school was put into special measures because it did not have a fence, headteachers have said as they attacked Ofsted over their "whimsical" attitude to school safety, The Telegraph reports.
Delegates at the National Association of Headteachers annual conference in Shropshire unanimously passed a motion to "deplore" a spate of recent instances where inspectors had made "inconsistent" judgements on safeguarding measures.
In some cases, this resulted in inspectors "automatically failing" schools on safeguarding, occasionally over spurious reasons, teachers heard.
Michael Brookes, a delegate from Cumbria told how an outstanding school was put into special measures because it did not have a fence.
S
peaking in favour of the motion, he added: "I wonder whether there is a case to take safeguarding out of the Ofsted education framework and having some separate facility for measuring schools."
Proposing the motion, Eugene Symonds said that Ofsted inspectors had created an "uneven and unfair playing field" for schools due to their "unjust, unfair or whimsical" judgements on school safety.
He told how one one inspector told a school that children were not safe because teachers did not actively go and find out the whereabouts of every child is who has not arrived at school that morning.
Inspectors told teachers they that if a child does not arrive for classes on time  they should go round to their house and "physically be going to get them out of bed and getting them to school".
H
eadteachers urged on Ofsted to "ensure that all inspectors consistently follow the latest guidance which should give schools the opportunity to enter into a dialogue to explain their safeguarding policies and procedures rather than automatically failing them".
"Conference deplores the recent instances of schools being categorised in safeguarding issues and using inconsistent judgements," the motion said. "Safeguarding is a serious issue but technical and clerical errors should not be limiting judgement."
A
n Ofsted spokesperson said: "Ofsted does not set the standards that schools and other education providers have to meet on safeguarding. Our job is to inspect against the standards and statutory guidance set by the Department for Education.
"If a school's safeguarding arrangements do not meet these requirements, then at inspection we will judge them to be ineffective, this will lead to an overall inadequate judgement.
"We would not normally find safeguarding ineffective because of one shortcoming, unless it is a very serious breach of statutory requirements."
Don't forget to follow us on Twitter, like us on Facebook, or connect with us on LinkedIn!