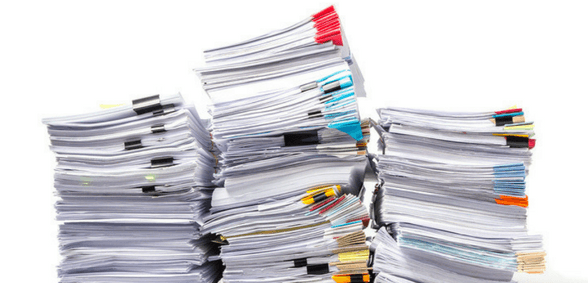 How much paper waste does your school accumulate over the course of a year? How much do you think it costs your school? Cutting paper waste can lead to substantial savings – and efficiencies! Colin Yates, chief support officer at WorkMobile, considers the cost of paper and an alternative solution
Over the past year, in particular, budget cuts have been putting educational institutions under immense amounts of pressure, making it extremely difficult to continue operating at a sustainable level. The government's latest wave of cuts has meant that a further 18,329 schools across the UK have been left facing a funding crisis – secondary schools are now missing out on almost £300,000 and primary schools almost £70,000 per a year.
With funding incredibly tight, schools and colleges are being forced to reduce spending to ensure that they can maintain their core functions – delivering education to our children. In some instances, schools have even reached the point where they are having to ask parents to contribute up to £400 each year to aid against the budget cuts.
Fortunately, not all schools are being forced to ask parents to contribute to their budgets, but they are having to review their spending and look for ways to cut costs, from reducing staffing numbers to decreasing per-pupil spending.
One sustainable and cost-effective way to save some money is to reduce the amount of waste in our schools. It is estimated that the average secondary school pupil produces 22kg of waste each year and for a primary school pupil this is double – reaching 45kg. Most of this waste comes from paper and card.
Why is the education sector using so much paper?
The educational sector has been fairly traditional in the way it operates, particularly due to the fact that heavy textbooks and physical notepads have long formed the basis of teaching. Adapting to modern teaching practices can be slow and extremely frustrating for staff, especially when funding is so limited at the moment – where is the money going to come from to enable schools to upgrade to the latest technology to remove paper workbooks, such as tablets or laptops for every student?
Our recent study into the death of the paper trail found that the education sector is actually having the most trouble reducing its paper usage, with a staggering 80% of staff admitting to this. Bearing in mind that paper-based registers are still used regularly and, not to forget, that parents are often required to sign paper confirmation forms to allow their children to attend extra-curricular activities or school trips, the amount of paper that is used on a daily basis is vast.
All these processes mean that up to one million sheets of paper are being used per school, per year, and a further £60,000 is spent on photocopying. Money that could be used to invest in better equipment and facilities for students.
What can the sector do to improve its paper reliance?
In the classroom, over-reliance on paper is, at best, impractical – a child reporting that they have lost their homework sheet or parental permission slip is not uncommon. Given that there is so much technology available to reduce paper usage, it is unnecessary for schools to continue relying on this way of working. The Internet, along with powerful mobile devices, have significantly reduced the need to post physical mail or print out paper documents, providing both environmental and essential cost saving benefits for schools.
But, there are also digital data capture solutions now available that can help establishments reduce the amount of paper waste they produce. These tools allow paper documents to be swapped for digital forms, which can then be stored in the cloud and accessed anywhere, at any time. This would mean that paper registers, residential trip permission slips or uniform booking forms could be swapped for digital copies, which staff, pupils and parents could all be given access to in order to make the form-filling process much easier.
Digital documents also provide great cost-saving benefits, meaning that money can be saved on printing resources and equipment. For schools, these savings will help to relieve some of the pressure that is being piled on by the current budget cuts.
Adopting digital solutions would also lead to greater compliancy for schools, given that paper-based forms can easily be lost or misplaced. For instance, if a child loses their permission slip, then they may not be able to attend an educational school trip. But, digital documents would help alleviate this issue. Rather than requiring parents to sign a paper form that the child has to take home with them, a digital version of the document could be sent to a parent via email, so they can then sign it and send it back in an instant. Quick, easy and stress-free. And the school would have a digital paper trail to show that permission has clearly been granted by parents to take children off the premises for the trip.
The education sector is coming under crippling financial pressure in today's economic climate, and with further budget cuts expected, head teachers and staff are being forced to find ways to reduce their expenditure to improve their situation. Reducing the amount of paper waste that schools are producing can be both a cost-effective and environmentally-friendly way to save money, reduce their carbon footprint and protect our children's futures. Now is the time to work towards a paper-less education system.
About WorkMobile®
Manchester-based
WorkMobile®
is an award winning mobile data capture service that replaces paper forms. Using the API, data captured may be integrated into back-office or ERP systems and further extended into a bespoke workflow solution that includes a variety of management information reporting options.
Don't forget to follow us on Twitter, like us on Facebook, or connect with us on LinkedIn!