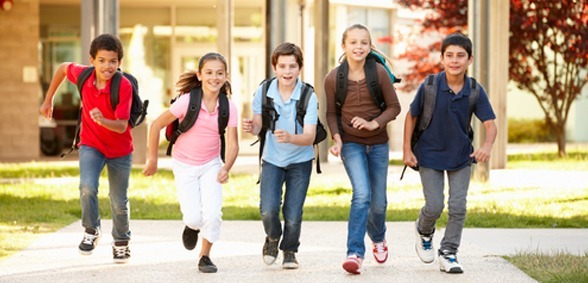 CREDIT: This story was first seen in the Hull Daily Mail
A "pioneering" Hull primary school is only giving its pupils one week off at Easter this year – and says the change will be better for children, teachers and parents.
In a break from tradition, St Andrew's C of E Primary School in Sutton Park has reduced the traditional two week Easter break to one week and will give pupils and staff the time back in May when they will enjoy a second week off instead of the usual one Whit week, the Hull Daily Mail reports.
When most schools break up this week, pupils at St Andrew's will stay in the classroom until the day before Good Friday, Thursday April 13, and will then return to school the following Monday April 24.
The holidays are being changed on a trial basis this year and will be reviewed, then, if successful, will become the norm at the school.
Headteacher Graham Huckstep said he believes if the trial goes well, other schools will follow suit and said it will be most beneficial for students about to take their SATs exams.
He said: "It's the lead up to SATs exams which take place the first week in May, so by extending the term it allows us to prepare the children for longer. There's always that worry that when you come back after Easter you are straight into exams.
"When you look at timetables, we are still living in Victorian times. I think holidays will change and my personal view is the 13 weeks holidays should suit the needs of the modern workforce and modern families, which are totally different to what they were when holidays were set.
"I think those in education have to wake up and evaluate where we are in modern society because we are still living with structured timetable.
"It maybe can't be described as a bold step, but it is a break from tradition, we are willing it stick our neck out and try things and we are being brave enough to look at the set up – which does need changing – and others are calling us pioneers.
"I've had a lot of interest from other heads as to how it might go and I know in other schools other heads are encouraging children to come in during the Easter holidays to do extra work for SATs.
Mr Huckstep said he also believes the additional week off at the start of June will help parents with booking cheaper holidays abroad.
He said: "The third thing is the issue of attendance, it will benefit parents because it's an opportunity to take a holiday in the middle of summer when other schools are in term-time.
"Also staff will get the time back when they need it most in the middle of the longest term which is the last term of the year when teachers are on their knees.
"We've had lots of positive feedback from parents and we will go to parents in June or July to find out what they thought. We are aware whenever you change things you are grasping the nettle and it may upset some, but feedback has been positive."
Don't forget to follow us on Twitter, like us on Facebook, or connect with us on LinkedIn!