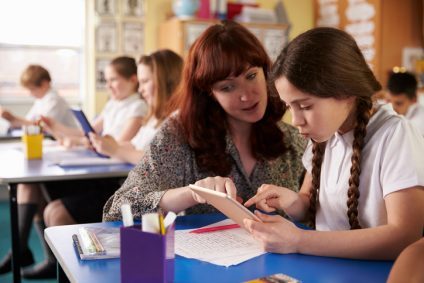 CREDIT: This story was first seen in TES
Trainee teachers on school-led courses are more likely to actually enter teaching, compared with those on university courses, study finds
The increasing proportion of trainee teachers choosing school-led courses could help to mitigate against the overall fall in trainees, a new report suggests.
The Good Teacher Training Guide 2017, published today, shows that trainees on school-based training are more likely than those on university courses to go on to start a career in teaching.
It says that 90% of final year trainees on school-centred training entered teaching, compared with 79% from university postgraduate courses, and 74% on undergraduate courses.
In recent years, the proportion of trainees who are in school rather than university-based courses has risen, with 2016-17 seeing it rise to 56%, from 51 per cent the year before.
Over the same period, the total number of trainees across all entry routes fell by two per cent.
In recent years, the government has favoured training linked to schools over university teacher-training departments, which ex-education secretary Michael Gove famously dismissed as part of the progressive "Blob".
Report co-author Alan Smithers, of the Centre for Education and Employment Research at the University of Buckingham, said: "Shortfalls to teacher training are a continuing concern, but the expansion of school-based training with its trainees more likely to become teachers is a reason for optimism."
The report says a likely explanation is that "those opting to train in schools are more committed to teaching, and schools select them more carefully, seeing them as possible future colleagues".
It adds that, of 17 providers where 100% of final-year trainees went on to become teachers, none were universities.
Last month, the Department for Education's then-head of teacher supply policy signalled that its antipathy to university teacher-training departments was over.
Ben Ramm told a conference in London: "We now have an approach that I would describe as pragmatic rather than focused on any specific structural preference for school-led or university led-ITT.
"The secretary of state has been very clear in the speeches she has made that she recognises very clearly… the importance and the value of high-quality university involvement in teacher training, and I think that is very much a direction that we will see sustained and increased in the coming years."
Don't forget to follow us on Twitter, like us on Facebook, or connect with us on LinkedIn!