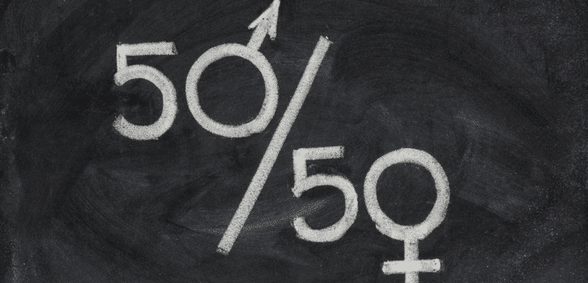 Richard Fitzgerald, headteacher at Langdon Park School in Poplar, believes that school's possess a unique opportunity to break down barriers to equality in the workplace. Here he shares some ways in which schools can promote initiatives to unblock the talent pipeline and support their female students to break through the glass ceiling
In April of this year, after a duty requiring big employers to publish data on their gender pay came into effect, the Women's Business Council (WBC) released a statement announcing its wholehearted support for the Gender Pay Gap Information regulations. It believes that bridging this disparity in wages could add £150bn to the UK's annual GDP by 2025.
Indeed, over the last four years, the WBC has advocated the importance of maximising women's contribution to future economic growth, including a drive for more girls to take up STEM subjects in schools. However, the Council knows that, "…there is more to do to level the playing field and unlock the untapped growth potential that women offer to the economy".
Understanding challenges to overcome them
There are a number of challenges facing young people today. These range from achieving outstanding academic results and functioning impressively in the workplace, to managing the pressures and anxieties associated with social media. However, for young girls, these challenges are amplified, as they come coupled with the very real and serious issue of gender bias.
Therefore, it's important for schools to address these issues as early on as possible because failing to do so can negatively impact students well beyond their school years. We've found that, if addressed effectively, the results can be astounding – drastically improving female students' aspirations and future success.
The following may be of help if you are looking for ways to empower your female students to break through the 'glass ceiling'
Introduce relevant female role models
Regularly presenting relevant and accomplished female role models to pupils is an important exercise for any school. While successful women in the public and political arena are great examples to inspire pupils, there are also examples closer to home.
What about inviting mothers or guardians with diverse experiences to participate in careers events? They could offer advice on interview practice as well as giving students an idea of the variety of vocations or lifestyles that may suit their skills and preferences.
Teachers are also inspirational role models and can imprint important behavioural patterns; recruiting impressive female teaching staff members is also key to aspiring young women with powerful role models. Teaching pupils about some of the everyday women who have achieved amazing things, regardless of whether they're included in the curriculum or not, is also an important move for schools.
Boost confidence through interview practice
Like other schools, many of our students have tremendous potential but their ability to present themselves in a confident and articulate way is not always a strength; this is particularly true for some of our female students when it comes to speaking authoritatively about subjects that they perceive their male peers to have more insight into or knowledge of – such as computing, for example.
Often, it is this lack of verbal communication that prevents them from projecting a true picture of their qualities and talents in an interview situation. By enabling students to practice various interview processes, including those that your female students may not typically opt for, you remove any intimidating or daunting elements from the process. The exercise boosts their confidence and they are better prepared for future real-life scenarios and learn valuable skills in showcasing their employability.
'Dragon's Den'-type activities work really well too as these help girls to operate within a boardroom-type setting as well as gaining experience in idea development and in pitching and presenting these ideas. Experience in asking for advice, funding and financial investments, which they may come up against in real-life scenarios, is also extremely beneficial, as the more students take part in these activities, the more confident they will become in managing these situations.
Set up seminars and workshops
Making seminars and workshops regular features in a school, where girls are consistently exposed to successful and inspiring spokespeople, is also incredibly worthwhile.
Earlier this year we took part in an external workshop for our Year 10 and 12 students called, 'Inspire – Females in Finance'; Barclays offered a group of our female students with potential interest in financial careers the opportunity to attend. The event began with a panel discussion offering insights on routes into careers in finance, overcoming challenges and balancing life, family and a career. The students then participated in an interactive workshop exploring self-confidence and leadership skills. The feedback we had from students was extremely positive so it's a workshop we're certainly planning on running again, as well as a number of others.
Encourage life skills
It goes without saying that having a good education is invaluable; not only can it significantly improve a person's quality of life, aspirations and life choices, it can also vastly improve career prospects and outcomes. However, developing life skills alongside education, in my view, is just as important.
Skills such as leadership, independence, individuality and accountability are crucial for establishing well-rounded and successful individuals, and are something we strive for and encourage in all our students, not just the girls. We invite our students to have a say in how decisions are made across the school; by giving them ownership of the issues that directly impact them students will not only become increasingly comfortable voicing their opinions, but also understand what it means to be accountable for their actions. I believe the more students that are presented with opportunities to lead within the school setting, the more they are inclined to adopt a leadership position in all aspects of life.
While the 'glass ceiling' is undoubtedly cracked, as yet, it's not broken. There is still work to be done. Nonetheless, the stats are extremely encouraging; the gender pay gap is narrowing, the numbers of females in high power positions is increasing and more and more schools are taking an active role in bridging the gender divide and empowering their female students to break through once and for all. That's a giant leap in the right direction in my book!
Don't forget to follow us on Twitter, like us on Facebook, or connect with us on LinkedIn!