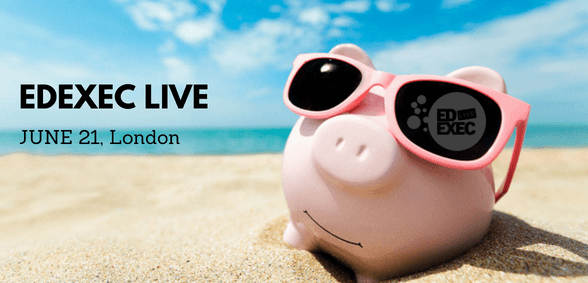 It's less than 3 weeks until we're LIVE, so grab your last chance to secure a place at a free or discounted rate!
Come and join our team of experts – along with your SBL peers – for the 2018 EdExec LIVE event on June 21 at 30 Euston Square, London.
Contact the EdExec LIVE team here to secure a FREE or £20 ticket
EdExec LIVE – the school business management and leadership conference – is an opportunity to address what's happening in schools and academies, including the changes and challenges, and explore how to achieve continuous school improvement in the face of ever-diminishing resources.
Seminars on the day will address critical issues faced by the sector; with over 20 seminars for you to attend on the day, you'll leave feeling skilled-up, networked and pepped-up! Here's a taste of what's on offer:
Overcoming funding pressures: management, generation and optimisation

The three R's: recruitment, retention, restructure

Maximising your assets: IT, health and safety, catering

Marrying your people with your budget

Pupils at a premium

Demonstrating impact and gaining recognition as an SBM

Leadership: developing a 'coaching culture' in your school

Making a move from maintained school to MAT

A curriculum-based approached to financial efficiency

Workshop: measuring and increasing staff well-being
View the full list of seminars here.
EdExec LIVE is in a space in which you can share ideas and experiences, discuss and tackle problems with other like-minded SBLs and get a much-needed injection of information and insights via an extensive seminar table.
There are a million reasons why joining us and your peers at EdExec LIVE will benefit both you and your school – so come and join us!
Visit our events page for additional information or, alternatively, contact a member of the EdExec team.
Don't forget to follow us on Twitter, like us on Facebook, or connect with us on LinkedIn!