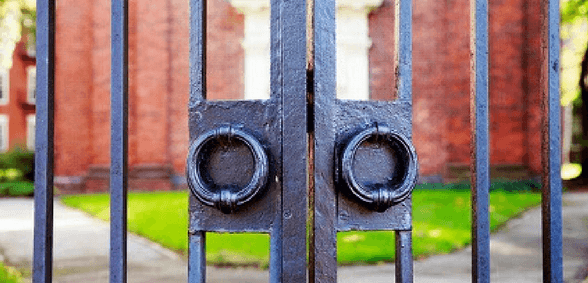 At the end of the last academic year (2016/2017) NASUWT suggested that schools need a coherent strategy for lockdown procedures in case a dangerous event should take place on their grounds and called on the government to put together a comprehensive plan. As it stands most schools will certainly have drills to deal with various emergencies but are you prepared for a terrorist threat? Are your staff equipped to recognise and react? Lee Dover, on behalf of 2020 Vision, provides some helpful tips
A recent security threat at Bury College has, once again, underlined the message that educational establishments across the UK need to remain on alert due to the continued threat of terrorism. As covered by the Manchester Evening News, hundreds of staff and students were caught up in the incident at the Greater Manchester college as the facility was put into lockdown as a precautionary measure before an evacuation took place.
Reflecting on the security threat after it was resolved, a Bury College statement acknowledged: "Staff at Bury College reacted swiftly today in response to a potential threat. Working closely with exceptional support from the police, the college quickly instigated its well-rehearsed lockdown procedures. A safe evacuation of the college was undertaken as a precautionary measure."
Should your school encounter a similar security threat you must consider the following:
Recognising the threat of terrorism
There are a number of procedures which have been set out by the National Counter Terrorism Security Office so that individuals can recognise a threat of terrorism. These can all be found in this GOV.UK publication.
However, the following points are particularly important for those in schools to consider:
Steps to take when encountering suspicious items
If you identify a suspicious item at your school, follow this protocol:
Use the following HOT protocol to confirm if the item exhibits suspicious characteristics
Is the item HIDDEN?
Is the item OBVIOUSLY suspicious? (Be aware of any batteries, circuit boards, liquids, putty-like substances or wires that are visible.)
Is the item TYPICAL of what you would expect to find at the location where it's been found?
If the HOT protocol has made you more suspicious the next step is to clear the immediate area:
Do not touch the suspicious item.
Move people at least 100m away from the suspicious item, starting from the centre and moving out, so that they are at a safe distance.
Ensure both yourself and others are kept out of the line of sight of the suspicious item.
Avoid positioning yourself or others near glass — this includes skylights and windows.
Set up a cordon around the area.
Call 999 to alert emergency services of the suspicious item, as well as informing any relevant members of staff at your establishment. However, avoid using radios within 15 metres of the suspicious item.
Monitor access to the area that's been cordoned off around the suspicious item, continuing to do so until it has been deemed safe.
Ask eyewitnesses to stay at the scene so that they can communicate with the police about what they've seen.
Steps to take when encountering suspicious mail or deliveries
A lot of mail and other types of deliveries will be made to schools on a day-to-day basis. The following are pointers to consider so that you can identify an item that is suspicious quickly:

Has the item been delivered unexpectedly? (Such an item delivered by hand is also a cause for concern.)
Has the item been delivered in a padded envelope, a Jiffy bag or another form of bulky package?
Is there an additional inner envelope or other content that is difficult to remove?
Has the item been delivered unexpectedly? (Such an item delivered by hand is also a cause for concern.)
Has the item been delivered in a padded envelope, a Jiffy bag or another form of bulky package?
Is there an additional inner envelope or other content that is difficult to remove?
Has the labelling or sealing been applied so excessively that it encourages opening at a particular end or in a specific way?
Is the item oddly-shaped or lopsided?
Is the envelop flap stuck down completely? (There should be slight gaps at the edges of normally gummed envelope flaps.)
Has the item been marked with phrases such as, 'Only to be opened by…', 'Personal' or 'Confidential'?
Has the item been addressed to an organisation or a title as opposed to a specific individual?
Is the origin of the item unexpected or unusual? (Look at the postmark and the return address where this matter is concerned.)
Is there a postmark?
Is there a return address on the item?
Is the return address unable to be verified?
Has the address been printed poorly, inaccurately, unevenly or in an unusual manner?
Is the writing unfamiliar?
Is the style of writing unusual?
Are there more stamps on the item than is required for its size and/or weight?
Are there any greasy or oily stains which emanate from the item?
Are there any odours which emanate from the item?
Concerned about an item after getting to the end of this checklist? Then the following emergency response plan should be followed:
Do not engage in unnecessary handling of the suspicious delivered item. The item should be put down on a cleared flat surface and kept separate from other items so that it can be identified easily. No attempts should be made to move the item.
Clear the area. Clear the immediate area where the suspicious item is straight away; this includes all adjacent rooms and spaces both above and below the room containing the suspicious item. Once cleared, ensure no-one is able to approach the area until it is safe to do so and make sure that no mobile phones or two-way radios are used within 15 metres of the suspicious item.
Inform the police. During this initial conversation let the police know if the suspicious item has been opened. Any informants and witnesses to the suspicious item should remain in contact so that they can brief the police once they begin carrying out their investigations.
Make sure a school and its grounds are secure
If you improve security at your school you should be able to significantly reduce the chance of a threat of terrorism growing there in the first place. Here are some tips for doing so:
Set up visitors' access control systems around all entrances to a school so that every individual is checked and identified before they are allowed into the establishment.
Clearly define a school's boundaries by placing fencing around the grounds and/or having clear signs which indicate when an individual is about to trespass.
Have one main entrance to the school; this should be visible from the reception area and be the only way for individuals to access the establishment during hours of study. Separate entrances are fine to have around a school, but these should only be open when pupils are arriving at, or leaving, the building.
Secure all doors and windows around a school. Fit alarms to exit doors so that people can be warned of unauthorised use, as well as applying locks to windows. Strictly control who can gain access to keys for opening them.
Set up CCTV systems so that surveillance can be maintained in sections of the school which aren't often monitored by staff so that the entire establishment can be fully monitored at times when empty.
Don't forget to follow us on 
Twitter, like us on
Facebook, or connect with us on
LinkedIn!