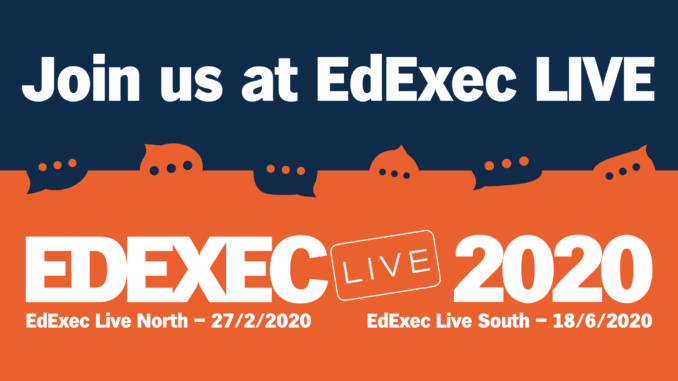 As we edge closer to the new year, our thoughts are on new resolutions – and the first step towards achieving any goal is… taking that first step! When it comes to your professional resolutions, make EdExec LIVE – taking place in Manchester, 27 February, and in London, 18 June, 2020 – that first step.
What are your school business management resolutions for 2020? Perhaps we can help you tick some boxes…
Overcoming budgetary uncertainty?
Whole-school wellbeing?
Professional confidence?
Emotionally intelligent leadership?
Benchmarking?
Training your governors?
Seizing more opportunities?
Recruitment and retention?
Community engagement?
We'll cover all of these topics – and more – at EdExec LIVE 2020 to prepare you for the ever-shifting nature of the SBM role. Keeping checking into our website, as we're updating it with new information all the time!
EdExec LIVE 2020 brings you valuable seminars and talks from education leaders, focused specifically on the business of running schools. Like a live version of our magazine, visitors will be presented with tangible information that they can actually use to their advantage back at school! Our 2020 events promise to be a fantastic two days of learning and networking.
Our seminar streams are dedicated to the issues that affect you and your role most; EdExec LIVE is truly a day built around you. It's not easy leaving school for a day, so we optimise your time by helping to structure your day with a bespoke programme, allowing you can attend as many of the seminars that are important to you as possible!
Can you really afford to miss EdExec LIVE?
Don't miss your opportunity to get your hands on a free or discounted ticket – e-mail [email protected]. Think of it as a Christmas gift from us!
Don't forget to follow us on Twitter, like us on Facebook, or connect with us on LinkedIn!