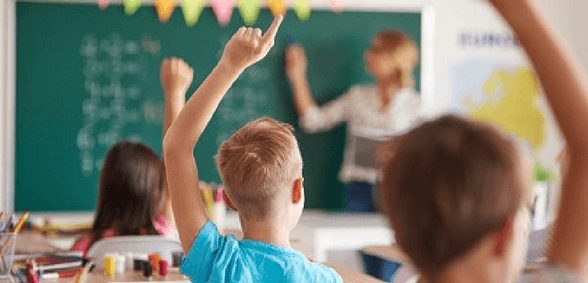 The maths teacher shortage has hit schools in disadvantaged areas the hardest, according to the Nuffield Foundation's research
The Nuffield Foundation has released a report – entitled How do shortages of maths teachers affect the within-school allocation of maths teachers to pupils? – which addresses the issues related to maths teacher shortages in England.
According to the report, the number of maths teachers has reduced due to the economic recovery opening up employment opportunities in the private sector. On top of this, demand for maths teachers has increased due to the fact that all pupils without an A*-C grade in GCSE maths are now required to continue studying the subject until the age of 18.
The Nuffield Foundation's research asks both how schools have responded to a shortage of maths teachers, and whether those behavioural responses can be used as indicators of school-level maths teacher shortages. It found that secondary school pupils in the most disadvantaged schools are being hit hardest by the shortage of maths teachers.
Paul Whiteman, general secretary of school leaders union NAHT commented on the report:
"Anyone working in a school knows how rewarding it is to help young people learn and grow. On a good day, there's no better profession to be in. The trouble is, today's graduates are attracted to other professions, and current teachers are leaving in search of other careers.
"England is alone among leading OECD countries in paying teachers less each year, in real terms. Budget cuts mean that pay rises and professional training are not keeping pace with teachers' expectations. They don't ask for much but they are getting even less.
"The government must make the changes necessary to ensure a workforce that can deliver the best education for all. This should be the focus of all our attention, to attract and retain teachers, pay them properly, treat them well and respect their need for a proper work-life balance."
NAHT's Leaky Pipeline report revealed that, in the last year, two-thirds of school leaders said they were aware of some of their staff having left the teaching profession for reasons other than retirement. The top two reasons cited were workload (84%) and achieving a better work-life balance (83%).
Whiteman concluded:
"Despite four years of warnings by NAHT the recruitment crisis continues unabated. The government is still failing to provide enough teachers for our growing school population. The recruitment pipeline is leaking at both ends, with insufficient numbers of newly qualified teachers coming into the system and too many experienced teachers leaving prematurely."
Don't forget to follow us on Twitter, like us on Facebook, or connect with us on LinkedIn!