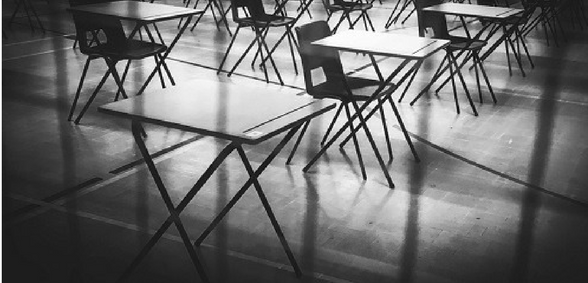 CREDIT: This story was first seen in the Guardian
Labour and Lib Dems condemn practice but say St Olave's grammar school is not the only institution to 'weed out' students, the Guardian reports.
The practice of weeding out "underperforming" sixth-form students mid-course after failing to secure top grades at AS level has been criticised by politicians, who say pupil wellbeing is more important than league tables.
The Guardian revealed that St Olave's grammar school in Orpington in the London borough of Bromley was facing legal action after being accused of acting unlawfully by ejecting sixth-form students who failed to get high enough grades at the end of year 12.
The shadow education secretary, Angela Rayner, said the case of St Olave's was "not an isolated incident" and the issue was about far more than the actions of one school. The Liberal Democrats' education spokeswoman, Layla Moran, said parents wanted to know their children would be supported by their school and not let down.
The Conservative MP Robert Halfon, who is the new chair of the Commons education select committee, was also critical.
"Education is about providing a ladder of opportunity to every child whatever their background – and equal access to climbing that ladder. If it is the case that students are being denied the chance of equality of access, in order to skew exam results, then clearly this goes against everything that education should be about," he said.
"Schools should offer every child the best opportunities to succeed to the best of their ability and reach their potential, not exclude them in the quest for 'good' results."
Lawyers acting for two St Olave's families have issued judicial review proceedings after it emerged that about 16 pupils were told their places for year 13 – the last year of school – had been withdrawn after they failed to get the required three Bs either at AS level or in internal exams.
The Guardian also revealed that other students had been told they would be allowed to continue on a discretionary basis and were asked to sign a contract warning that if they did not get a minimum B grade in their mocks the school reserved the right not to enter them for their A-level exams.
Responding to the Guardian story, Rayner said: "The fact is, this is not an isolated incident and it is about far more than the actions of any individual school. The damaging unintended consequences of the current system are why Labour made it clear we would review assessment and strengthen local accountability for schools, ensuring that they are fit for purpose and help children get the best start in life, rather than putting them at risk of losing their place at school."
Moran, a former teacher, said mid-sixth form was a pivotal moment in a student's education. "Every pupil has a right to an education and they should only be kicked out of a school in cases of extreme wrongdoing, such as behavioural issues.
"Clearly the school is concerned about its standing in the league table but it should also consider its broader reputation, which is linked heavily to how it lives up to its duty of care. Parents want to know their child will be supported, not let down. The wellbeing of pupils is more important than league tables," she added.
The Guardian approached the school for comment again on Wednesday but has had no response.
Education experts say a number of other schools – including other high-achieving grammars – are employing similar tactics to ensure the best possible results, but it is thought to be the first time the issue been challenged in court.
Dan Rosenberg, the lawyer acting for the families, told the Guardian the families' claim was that the school was operating an unlawful policy. "Proceedings have now been issued. As well as assisting our clients, these proceedings will hopefully assist others who may be affected now and/or in the future by the school's policies and practices.
"We hope that the governing body will now reconsider the policy and its application, and further that the children affected can return to their A-level studies at the start of term with their peers."
St Olave's is one of the highest achieving schools in the country. On its website it boasts that this year's A-level students achieved 96% A*-B grades; 75% of all grades were at A* or A, three percentage points up on last year, and 32 students gained straight A* grades in at least three subjects.
Though the results are impressive, the school's critics complain they have only been achieved by getting rid of potentially weaker students who might bring overall results down and affect league tables.
The schools watchdog Ofsted said its inspectors reviewed retention and destination data for both year 12 and year 13 students when visiting secondary schools, to see how many stayed on from lower to upper sixth and where they went after leaving school.
An Ofsted spokesman said: "Inspectors will ask senior leaders about the advice and guidance they give to year 12 students to help them make appropriate choices for their next steps in education, training or employment.
"They will also discuss any policies on progression from year 12 to year 13, including the school's grade requirements to take A-level courses. Inspectors will also discuss with students the advice they are given and what impact it has on their choices."
Don't forget to follow us on Twitter, like us on Facebook, or connect with us on LinkedIn!