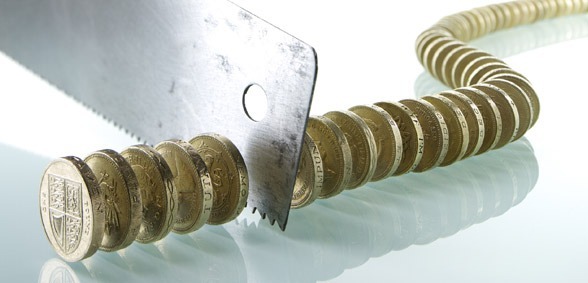 The latest analysis by school unions across England shows that school budgets have been cut by £5.4bn in England over the last four years
The School Cuts coalition analysis of the latest government school funding figures shows a shortfall in funding of £5.4bn over the past three years, with 91% of schools in England affected.
This is the most comprehensive examination of school funding figures, bringing together:
• Schools Block allocations (which for 2018/19 also includes the new Teacher Pay Grant);
• The Pupil Premium;
• Sixth form funding.
Check the School Cuts website to see how schools in your area are affected.
Geoff Barton, general secretary of the Association of School and College Leaders, said: "Schools across the country have had to make severe cuts and there are more on the way as reserves are drained and deficits increase.
"The reality of budget cuts is that schools have to operate with reduced staffing and this impacts on educational provision, such as less additional support for children and fewer curriculum choices. Schools are in the invidious position of having to decide on the least-worst option of where to make cuts or they will become insolvent."
Rehana Azam, national secretary of GMB, said: "Low-paid support staff are regularly dipping into their own pockets so children can have food, stationary, and even sanitary products. We urgently need more funding for our schools – the time to act is now.
"Schools have been pushed to breaking point. The smoke and mirrors of ministerial spin do not disguise the reality that kids' free school meals are being cut further by this government."
Paul Whiteman, general secretary of school leaders' union, NAHT, said: "School budgets are at absolute breaking point. School leaders have made all the obvious savings. Now, class sizes are rising and the range of subjects schools can offer is shrinking as they desperately try to balance the books.
"Everyone agrees that the school funding crisis can only be solved by new money from the treasury."
Kevin Courtney, joint general secretary of the National Education Union, said: "This is an intolerable situation. Children and young people are being short-changed by a government that believes education can be run on a shoestring. This situation cannot go on.
"There needs to be a reversal of cuts to school budgets since 2010, and for the funding of schools and SEND provision to be of a level that ensures all children and young people get the education they deserve."
UNISON head of education, Jon Richards, said: "Enough is enough. Coffers are empty, as are bookshelves and staff rooms in many schools. With heightened concern over the mental health of young people, savage cuts mean fewer support staff to provide vital personal help.
"Schools everywhere are struggling. Ministers must act now or a generation of children will be disastrously let down."
Unite national officer, Jim Kennedy, said: "The government needs to stop burying its head in the sand, drop the spin and wake up to the crisis in school funding. School cuts are resulting in reduced opportunities for young people in and out of the classroom and leaving staff struggling to deliver the best education they can.
"Ministers need to act fast to end the school funding crisis for the sake of the generations to come."
Don't forget to follow us on Twitter, like us on Facebook, or connect with us on LinkedIn!