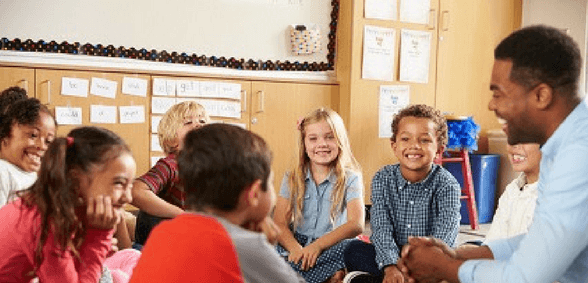 School standards minister, Nick Gibb, names preferred provider to deliver Reception Baseline Assessment
Following an open procurement process, the National Foundation for Educational Research (NFER) has been selected to design and deliver the assessments to measure the progress pupils make from the very start of primary school.
The assessments are designed to ensure that schools are recognised for achieving the best outcomes for their pupils and that teachers receive recognition for their work during the initial years of education.
'The Reception Baseline Assessment will be administered as a twenty-minute, teacher-recorded assessment of children's communication, language, literacy and early mathematics skills. It will cover material that many children will already be familiar with and pupils will not have to prepare for it, either at home or in school. It will replace the statutory tests which pupils have faced at the end of Key Stage 1, freeing up teacher time and resources so they can focus on what really matters in the classroom,' the DfE has detailed.
As it stands, progress measures are based on data from the end of Key Stage 1 – which omits the work achieved before this stage; according to the DfE, the activity-based assessment is supposed to enable 'better, fairer' measures of primary school performance by capturing and, therefore, understanding the progress teachers help pupils to make from the first weeks of reception all the way through to the end of Year 6.
The Department for Education has also confirmed that:
when the baseline is fully established, Key Stage 1 assessments will become non-statutory for first and infant schools and, at the same time, they will become non-statutory for all-through primaries;
from 2027, reception to Key Stage 2 progress measures will be published for all-through primary schools, but not for those with a different age range;
first and infant schools will continue not to have progress measures published. These schools will continue to be responsible for demonstrating the progress their pupils have made to Ofsted and those with an interest in school performance; and
middle and junior schools will be in a similar position to first and infant schools with responsibility for evidencing progress based on their own assessment information.
Carole Willis, Chief Executive of NFER said: "We are pleased to have been selected as DfE's preferred supplier for the new Reception Baseline Assessment. As a not-for-profit organisation, we are committed to projects that will improve education and outcomes for children and young people, such as our recent work on teacher recruitment and retention, and our work on social mobility.
"NFER has been developing robust assessments for over 70 years, for use by teachers, schools and government agencies. Our experience in producing a Reception Baseline Assessment in 2015 demonstrated that it is possible to undertake a robust assessment of children's language, literacy and numeracy skills at this age. Reception children enjoy taking our assessment – which involves using resources such as counting teddy bears, plastic shapes and picture sequencing cards, reflecting familiar classroom practice.
"This new assessment is intended to be a cohort level measure, rather than an individual pupil measure. Introducing such a measure at the start of reception allows the huge contribution that schools make to children's progress in the first three years of school to be properly recognised."
Madeleine Holt, More Than a Score spokesperson, said the following of the £10m contract to develop the Baseline Assessment of all four year olds in England: "Baseline Assessment in various guises has been repeatedly introduced and failed. Reintroducing it is an expensive and pointless exercise which only serves to  damage children's education and wellbeing.
"There is no research evidence that four-year-olds can be reliably tested; the government has certainly not produced any. The score that the Baseline test produces will not be a true picture of what children can do – yet it will be used to judge schools seven years later to assess whether they have enabled children to make enough progress
"By focusing almost exclusively on literacy and numeracy, the proposed baseline assessment will force a narrowing of the curriculum to these areas.  This is counterproductive, as young children will not develop these skills without developing their oral language, physical development and having rich experiences across the curriculum to engage their love of learning and understanding of the world around them.  Teachers around the country are already telling us how they are being pressured to teach in ways that are not in children's best interests.
"Baseline Assessment is doomed to fail again. In the interests of children and their schools, More Than a Score will be working to make sure this happens sooner rather than later."
The introduction of the reception baseline assessment, which is supported, in principle, by the National Association of Headteachers and the Association of School and College Leaders, follows an extensive public consultation and is part of wider changes to the primary assessment system which focus on pupil progress, mastering literacy and numeracy, and scrapping unnecessary workload for teachers. Following the consultation, the government confirmed it would:
Improve the early years foundation stage profile, including revising the early learning goals to better prepare children for year 1 and reviewing the assessment guidance and process to reduce teacher workload and allow teachers to use their professional judgments;
Remove some of the wider burdens on teachers, including making Key Stage 1 tests and assessments non-statutory from 2023 and remove the requirement for schools to submit teacher assessment data to the government for reading and maths at the end of Key Stage 2, as these subjects are already assessed through statutory tests, from 2018-19;
Introduce a multiplication tables check to aid children's fluency in mathematics from 2019-20; and
Improve teacher assessment of English writing by giving teachers greater scope to use their professional judgement when assessing pupils at the end of Key Stages 1 and 2 from the current academic year (2017-18).
Julie McCulloch, interim director of policy at the Association of School and College Leaders, said: "The most important measure of how well a school is doing for its children is the progress they make, but at the moment we only start measuring their progress from almost halfway through primary school when children take Key Stage 1 tests at the age of seven. We need a system which better reflects the entirety of their schooling and the vital work in the infant years, and we therefore support a light-touch assessment near the beginning of Reception which will provide an earlier starting point for measuring progress and give parents a more complete picture.
It would also pave the way for the scrapping of Key Stage 1 tests, removing a significant pressure on schools and children.
"It is essential that any Reception assessment is thoroughly trialed before it is rolled out, to ensure it is as valid and reliable as possible, and does not put pressure on very young children. We will be encouraging our members to participate in the trials, to help shape the new assessment and ensure it is fit for purpose."
Don't forget to follow us on Twitter, like us on Facebook, or connect with us on LinkedIn!