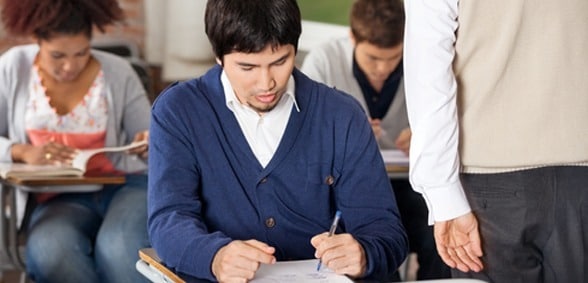 A new report launches today which explores the UK's role in privatising education across the world
A new report from UK civil society organisation Global Justice Now and the National Education Union, the largest education union in Europe, launches today.
The report, titled In Whose Interest? The UK's role in privatising education around the world, explores whether the Department for International Development's policies and programmes are contributing to a privatisation agenda.
In Whose Interest? highlights how Official Development Assistance (ODA) has been supporting privatisation through grants to education businesses, support for pro-private research, and consultancy contracts with UK-based businesses, among other methods. The latter includes the Girls' Education Challenge, which alone will see a £32.7 million consultancy fee paid to PWC.
In Whose Interest? also illustrates how privatisation is problematic in terms of equality, quality, and accountability in education, and how it is undermining public education systems. Fees, non-inclusive providers who don't provide for children with additional needs, and unqualified teachers all contribute to a poorer and less equal learning experience for children relying on low-fee private schools.
Other systems, such as the proposed Education Outcomes Fund, could enable profit-making (through interest paid to investors) in education financing.
While DFID ministers have claimed on several occasions that over 95% of the UK's spending on education goes to the public sector, DFID's response to a Parliamentary Question in early 2019 indicated that this figure 'includes for-profit organisations who deliver services through the public education system'.
In Whose Interest? also makes parallels between DFID's work internationally and the academisation programme in England.
A spokesperson for the DFID has defended the organisation's position regarding this matter, saying: "It is wrong to suggest that DFID's policies and programmes are contributing to a privatisation agenda in the education sector.
"Our priority is to ensure children get the education they deserve. We stand by our approach, whether this means supporting the public sector, or working with the private sector where that is most appropriate, in support of the choices national governments make."
The UK is one of the biggest funders to international education globally and continues to deliver on the 0.7% GNI commitment made in 2015. In Whose Interest? recommends that this welcome funding for global education is fully supportive of public education systems.
The report further recommends a renewed focus on tax justice and domestic resource mobilisation to instead fund robust public education systems.
Mary Bousted, joint general secretary of the NEU, said: "Education is a human right and a public good. The government's blatant privatisation of education domestically and internationally is commercialising this right and favouring profits over pupils.
"It's time that the government, including the Department for International Development and the Department for Education, recognises that their ideological push for privatisation isn't delivering the quality, inclusive, and free education all children and young people deserve."
Don't forget to follow us on Twitter, like us on Facebook, or connect with us on LinkedIn!