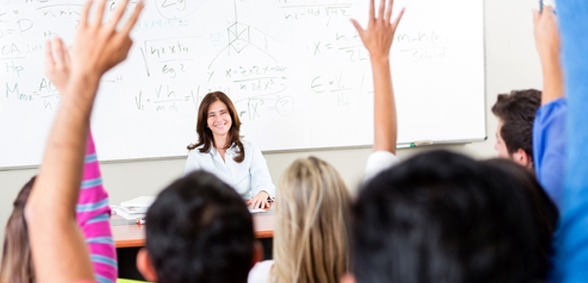 CREDIT: This story was first seen in The Guardian
Figures released on national school offer day show pressure on classrooms is most intense in south-east England, The Guardian reports.
One in three families in London will not be able to send their children to their preferred secondary school next year, as rising numbers of school-age pupils put pressure on classroom places across the south of England.
The figures released on national secondary school offer day, for pupils moving from primary school into year seven in England, show the first signs of the strain placed on secondary school admissions.
Other local authorities in the south-east of England also saw rising a proportion of families not getting their first preference, including Essex, where first preferences dipped from 88% to 86%, and Kent.
The national data was published as research showed that families who made more school choices were likely to gain places at higher-performing schools.
Just 66% of pupils in the greater London region received an offer from their first preference school, compared with 68% last year, as the effects of the early-2000s baby boom fed into secondary school applications.
"The number of pupils starting secondary school in London is growing, and with 94% of the capital's schools rated good or outstanding by Ofsted it is no surprise that parents are keen to send their children to school in London," said Peter John, the London Councils executive member responsible for education.
John said London had a four per cent increase in applications compared to last year – a rise of 3,900 – and boroughs were offering 93% of children a place at one of their preferred schools.
But figures released by the pan-London admissions authority (a consortium of 32 local authorities) showed that 6,400 children in London, or 6% of the total, were allocated a school that their family had not listed as a preference.
Hardest hit were families in Hammersmith and Fulham, where just 51% received their first preference, while 53% of those in the City of London and 54% in Kensington and Chelsea received their first choice.
At the other end of the scale, Waltham Forest was the only local authority in London where more than 80% of families were offered their first preference.
Outside London, the national picture showed local authorities seeing increases in applications, with most able to keep pace.
Bristol, which has enjoyed rapid growth in recent years, again offered fewer children their first preference – just 72% compared with 77% in 2016.
"With a vast increase in numbers of applications predicted for secondary schools as the city's population continues to grow, we are facing a huge challenge in order to make sure we can still provide the right places for the children of Bristol," said Anna Keen, the council's cabinet member for education and skills. "We are currently working hard to make sure the city has the right number of places in the right areas for this increase in the future."
In Manchester the proportion of families receiving their first choice rose from 75% last year to 77%. In Birmingham the number rose from 68% to 71%.
In Brighton and Hove the first choice rate was stable at 84%, but five per cent of families were not offered any of their preferences.
Simon Burgess, a professor of economics, said research showed that parents of all backgrounds took school choice seriously.
"It's not all just a sham. A large proportion of parents use the school choice system proactively to achieve a preferred school. They make many choices, they look around, and they focus on school academic quality," Burgess said.
The research by Burgess, Ellen Greaves of Bristol University, and Anna Vignoles, of Cambridge University found that parents in England who made more choices were offered higher performing schools overall, even if they did not get their first choice.
"It is not just affluent families who invest the time to research and choose schools. Families eligible for free school meals, on average, make as many choices as richer families," Burgess said.
The school standards minister, Nick Gibb, said: "We are raising standards across the country so that every child can go to a good school where they are taught the knowledge and skills they need for future success and we're investing £5.8bn to create even more good school places. This builds on the 735,000 places we've created since 2010 – meaning nine out of 10 pupils get one of their top three choices of schools."
Don't forget to follow us on Twitter, like us on Facebook, or connect with us on LinkedIn!