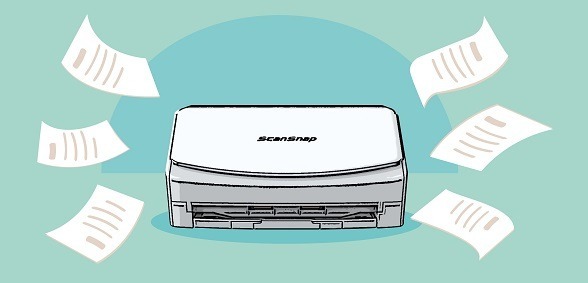 With the administrative burden on schools increasing, a solution that ensures efficient – and secure – document management is essential. Andrew Cowling, channel marketing specialist at Fujitsu, considers how Fujitsu scanners can help you to work smarter, not harder – by realising time, work and paper-efficiencies
The experiences of Ryburn Valley High School's student services department will be one familiar to many; with large amounts of paperwork part of their day-to-day routine it was a time-consuming activity that left little scope for other forms of school and student support. A solution was required and, for them, it was a Fujitsu ScanSnap scanner.
Practical applications
From the start, the team at Ryburn Valley experienced improvements in paper-based administrative processes – including improved communications between staff, students and parents. Where previously the school handled student information manually, embracing ScanSnap technology meant that information could be quickly digitalised, stored and securely circulated via the scan-to email function. Goodbye paper notes lost in transit! The technology has also been used to improve students' learning; for instance, if absent, classwork can be digitised using the scanner and sent to students with ease, allowing them to catch up remotely and leaving no lesson unlearned.
As schools continue to evolve their digital provision, high-efficiency scanning will be central. Solutions such as Fujitu's ScanSnap iX1500 scanner enable schools, like Ryburn Valley, to realise new heights of efficiency, organisation and security.
A smart approach to paper management
The speedier the capture and (secure) dissemination of information, the better, so what can you expect from Fujitu's iX1500? In a nutshell, streamlined administrative processes, simplified communications and quick scan, store and share technology, all via a secure central system. If we break it down, this is what it means for your school:
Improved organisation: All files are stored in one, searchable place making it simpler to find what you're looking for – so, when Ofsted comes knocking, or you're served a subject access request, you can act swiftly.
Smarter working: With scanned data stored on a central system, it can be accessed in a variety of ways – via smart devices or the cloud – meaning that you can share information, and others can access it, on the go.
Resource efficiencies: Scanning removes the need to maintain paper-based filing systems – saving you money, materials, space and time.
Secure storage: Schools are obliged to collect and hold data on students and staff but data storing and sharing needs to meet certain legal requirements. You are subject to strict confidentiality and security rules contained in the Data Protection Act 2018, which includes General Data Protection Regulations (GDPR). Fujitsu's scanner technology can ensure that you are undertaking your due diligence – managing and protecting data effectively.