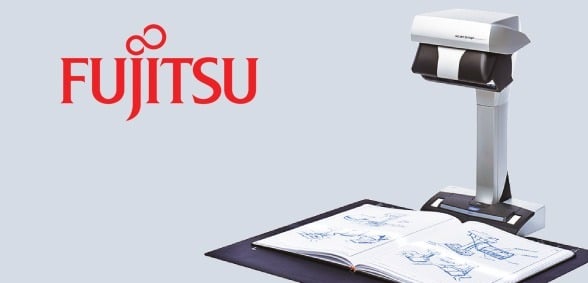 How can scanning make a difference in your school?
Storing pupils' written work is difficult enough, but storing art projects can be a serious challenge for schools. In all their forms – oil, water or acrylic paintings and pastel or charcoal drawings – original pieces of art take up considerable space and are all-too-likely to get damaged. This was an issue for Skegness Academy – at least, until it installed a high-speed ScanSnap SV600 overhead scanner, allowing for high-definition scans up to A3 size.
Like many schools, the academy had previously used inadequate digital photography to capture this art for many years. "We always used point and click cameras to photograph artwork," says the school's IT technician, Kevin Reeson. "But the pictures always seemed to come out wonky. Or students had to wait till their paintings were dry before taking them down to reprographics for photocopying, which again was not perfect."
Not only were the images low-quality and didn't capture the complexity of the art, but there were long delays for downloads – and a lot of disappointed students who weren't able to add true representations of their art to their portfolios.
Eventually, the school decided to try out the then-new SV600 – and it changed everything. "It's like a small lamp, shining a moving light that scans across the artwork laid flat on the table below," says Kevin. "When I first saw it in a box, I thought how is that going to work? But once it was working, I realised it was a simple idea that worked really well!"
The ScanSnap SV600 had an almost immediate affect on classes, and the head of art, Vikki Thompson, reported high speeds and images of such excellent quality that every lump and brush stroke could be seen.
A boost to student engagement
Students became more engaged as a result, thanks to having access to good quality digital images that were really worth their place in their portfolios as well as standing them in good stead when it came to entering online competitions. Prints of the scanned images were good enough to replace artwork in displays and, thus, preserve the originals. And using the SV600 couldn't be easier – it is linked directly to a laptop carrying the scanning software, meaning that students simply have to log on, press the button and their artwork is scanned in a few seconds. This adds a real time-saving benefit in a class of 30. "A lot of people have this habit of taking photos," he says. "But if you could actually see how quick it is to scan a picture, the quality of the captured image and then send the file to wherever you want, primaries would probably use it too."
Enjoy the benefits of ScanSnap
The ScanSnap SV600 is the first ScanSnap capable of contactless scanning, and can digitise a great variety of objects: bound or stapled documents up to A3 size, such as notebooks, newspapers, catalogues, business cards or fragile originals. This new solution represents instant scanning in the truest sense of the word – all a user has to do is place one or more documents on the mat, press a button and the digital document is ready for use on a PC, in a cloud service, or via a smartphone or tablet, in seconds.<box out>
Why else should schools be using scanners?
Impact on students' document management skills. 
Document access. Digitalisation of data allows for sharing, editing and searching efficiently, thus boosting productivity, reducing storage costs and creating flexibility through remote access.
Speed of communication. With documents stored electronically, a school's response to peers, parents and other businesses can be reduced dramatically.
Security. Schools hold a lot of sensitive information in their systems and their data storage and sharing must meet certain legal requirements. Managing documents electronically allows schools to their General Data Protection Regulation obligations more easily and effectively.
The best scanners for schools:
ScanSnap iX1500
Scan everyday documents such as forms and permission slips up to A4 & even A3
Scan colour, double sided and mixed batches of documents
Simple in its operation, connection via USB to PC or Mac
Intuitive, automated scanning and seamless distribution to a host of destinations such as email
Bundled with OCR software for creation of searchable and editable files
BUY TODAY AND CLAIM A FREE SCANSNAP iX100 SCANNER (T&Cs APPLY)
ScanSnap SV600
Overhead contactless scanner for scanning of loose documents up to A3, bound material and pupil produced material such as craft items
Simple one button approach, compatible with both PC and Mac
Continuous scanning possible with page turning detection and timed scanning
Automated image enhancement features
Bundled with OCR software for creation of searchable and editable files
Capture and document evidence of pupil progress
fi-7160
Smoothly scan mixed batches of documents quickly and accurately, impressive daily throughput
Pull specified data from forms to populate existing workflows and analysis tools
Innovative paper feeding and protection mechanisms, automated image enhancement tools
Version available with an attached flatbed device for scanning of bound or delicate documents (fi-7260)
Don't forget to follow us on Twitter, like us on Facebook, or connect with us on LinkedIn!