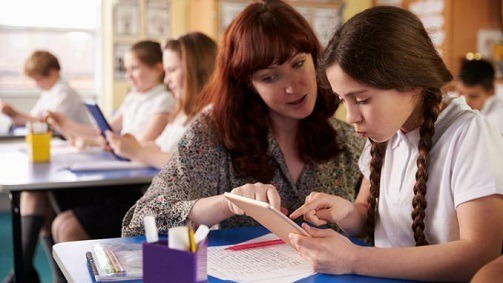 CREDIT: This story was first seen in TES
The safety of pupils will be threatened by cuts to support staff doing vital jobs such as administering medicines and conducting criminal record checks, a union has claimed.
TES reports that according to a Unison poll of 1,400 school office employees, 47% of respondents said that the number of administrative staff have been cut in their school over the last year as funding becomes increasingly tight.
The union claims that further cuts will put pupils at risk because support staff carry out a range of critical tasks.
Unison's survey found that 71% of respondents are responsible for ensuring people visiting their school are safe to do so, with 41% responsible for organising security checks to make certain new staff have no previous criminal convictions.
More than half the support staff surveyed (55%) said they administered medicines and first aid to pupils, with 62% updating school medical records.
According to Unison's poll, 74% of respondents said support staff cuts had resulted in them having to work additional, unpaid hours.
The union said that with less support staff, teachers and teaching assistants would increasingly find themselves having to step in to pick up their work.
Jon Richards, Unison's head of education, said: "School office staff go above and beyond every single day and schools would struggle to manage without them.
"If their jobs go, everyone – heads, teachers, pupils and parents – would notice the difference."
He added: "These employees play a vital role keeping children safe, reassuring parents and ensuring the smooth and cost-effective running of schools. Without them, already overstretched teachers and teaching assistants could be pulled out of classrooms."
Those surveyed also reported that budget cuts have resulted in fewer books (53% of respondents) and computers (42%) for pupils, less funding for school trips (48%) and bigger class sizes (40%).
Don't forget to follow us on Twitter, like us on Facebook, or connect with us on LinkedIn!