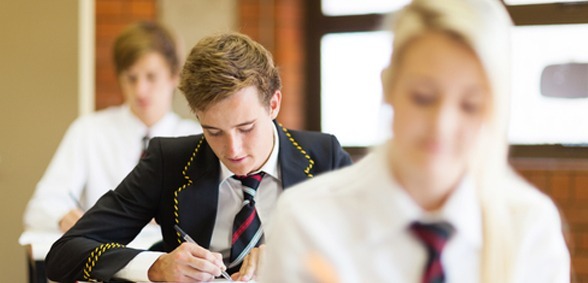 The new SAT results show that the number of pupils achieving the expected standards in literacy and maths has risen
This year's SAT results have shown a small improvement in pupils achieving the expected standard in maths and English.
The results have shown that 65% of 11 year-olds met the government's targets. 2018 saw 64% achieve the same and 61% met the standards in 2017.
Maths showed a particularly strong improvement, from 76% meeting the expected standard in 2018 to 79% doing so this year.
Reading, however, fell from 75% last year to 73%.
Commenting on this morning's publication of Key Stage 2 SATs results, Tiffnie Harris, primary specialist at the Association of School and College Leaders, said:
"Congratulations to schools and pupils on this year's SATs results which are the product of a great deal of hard work in the very challenging circumstances of an ongoing funding crisis.
"It is great to see an improvement in the percentage of children reaching the expected standard in maths. The decrease in the proportion reaching the expected standard in reading needs to be seen in the context of an overall improvement since 2016.
"These results show that schools are doing an exceptional job despite the funding pressures. The government cannot continue to take educational standards for granted however and must improve the level of funding as a matter of urgency.
"It must also review the current SATs system which is not fit for purpose with stakes that are too high and a focus on tests which do not reflect the breadth and richness of the curriculum taught in primary schools. We need a system which is fairer on schools and fairer on children."
Kevin Courtney, joint general secretary of the National Education Union (NEU), described SATs as 'demoralising and damaging'. The NEU has an ongoing campaign to scrap the exams altogether.
"Damian Hinds claims that the SATs are not about testing children. Today's statement gives the lie to that: it tells us that over a third of 11-year-olds will arrive in their new secondary school in September knowing that they have been labelled as 'below the expected standard'.
"This demoralising outcome is the result of policy-makers' delusion that to measure the performance of our primary school system it is necessary to test each individual pupil.
"Test-driven primary assessment is damaging children's mental health and well-being; it intensifies the stress on teachers. Preparing children for SATs squeezes out other parts of the curriculum.
"As the NEU's latest poll shows, the overwhelming majority of teachers want to see an end to SATs. They are supported by all the opposition parties.
"The tide has turned against high-stakes testing.  Announcements like today's will soon be a thing of the past."
Don't forget to follow us on Twitter, like us on Facebook, or connect with us on LinkedIn!