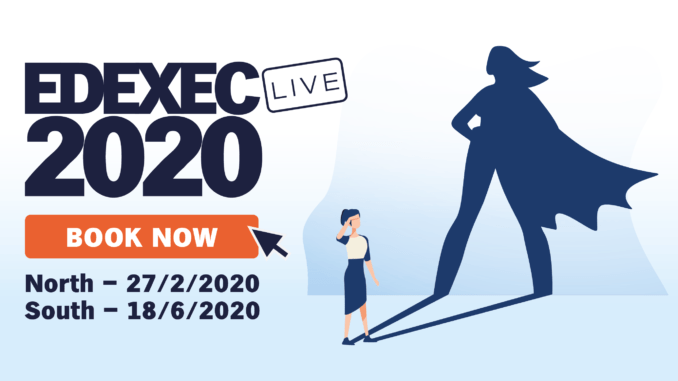 EdExec LIVE supports SBMs in every aspect of their role, from finance to wellbeing, management to procurement – and far, far beyond! Can you afford to miss out?
EdExec lives, breathes and writes school business management, and our live event – which hits Manchester on 27 February and London on 18 June – brings that to life for you, our SBM readership. Regardless of which areas of school business management you focus on, we've got something for you to take away and apply to your school in a way that creates long-term change.
Full seminar details are available at www.edexec.co.uk/edexec-live-2020/seminars – but here's a little taster of the fantastic topics we have on offer, presented by expert speakers:
Training your governors (exclusive to EdExec LIVE North)
Busting the myth of 'pointless' long-term budget planning (exclusive to EdExec LIVE South)
Creating whole-school wellbeing (exclusive to EdExec LIVE South)
Confidence and clarity
Benchmarking: not a solution, but a tool
Strategic IT planning for whole-school improvement
Leverage and price negotiation
Ending contracts – the do's and don't's
Seizing opportunities
Developing emotionally intelligent leadership
Community engagement is king
Coaching skills for line managers
EdExec LIVE also offers:
Vital resources
Schools are increasingly having to do more for less, so easing that burden is central to our agenda! EdExec LIVE delivers tangible ideas and examples of how you can make and save money, whilst improving your school environment and performance.
Connecting people
No one knows the business of running a school better than those who do it, but we know how difficult it is for you to find the opportunity to leave the office; it's well worth the effort, because EdExec LIVE is a fantastic opportunity to network with others in the profession, share experiences and solutions and forge long-lasting professional relationships to benefit you and your school.
The great work-life balancing act
Our events are also an opportunity to develop your existing skill-set. Additionally, as the role of the SBM develops, opportunity blossoms; the event explores the options for personal progression and is a chance for you to speak others who are either considering their next steps or have already taken them.
E-mail [email protected] to flag your interest in attending!
Don't forget to follow us on Twitter, like us on Facebook, or connect with us on LinkedIn!